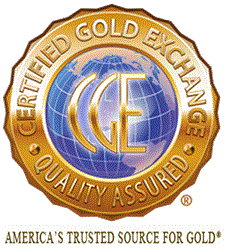 Anytime a major catastrophe strikes it is going to shock the mainstream markets.
Salt Lake City, UT (PRWEB) September 10, 2013
It has become relatively commonplace for American businesses to offer special discounts or services to commemorate the tragic events that took place on September 11, 2001. Some companies offer free American flag magnets or pins, while other firms pledge to make a donation in the customer's name. The official Certified Gold Exchange has decided to offer deep discounts on all U.S. gold products, which company spokesperson Janet Jones says is a good way to support the U.S. economy while at the same time gaining protection from financial uncertainty that can become worse in the blink of an eye in response to terrorist attacks and other threats to the United States.
"Anytime a major catastrophe strikes it is going to shock the mainstream markets," Jones said. "Whether it is a terrorist attack, a natural disaster or a glitch in the stock markets themselves the result is almost always negative for traditional investment vehicles."
"The Certified Gold Exchange is proud to offer Ohio Precious Metals bullion bars and rounds, both of which are .999 pure gold. We also carry discounted tubes of American gold Eagles and monster boxes of silver American Eagles which contain 500 ounces of silver each."
In addition to the bullion offerings the Certified Gold Exchange will give investors the option to purchase certified gold coins, such as Liberty Head Double Eagles and Saint Gaudens $20 pieces, for $100 less than PCGS.com's listed price. The promotion will be a one-day-only event and will run from 10am-7pm EST. The Certified Gold Exchange assists clients who wish to invest $5,000-$2.5 million in precious metals.
Certified Gold Exchange, Inc. is one of North America's premier precious metals trading platforms, providing unparalleled service to licensed dealers, institutions, and household investors since 1992. Certified Gold Exchange maintains an A+, Zero Complaint Better Business Bureau rating. For more information or a free "Gold Investor's Guide," visit http://www.certifiedgoldexchange.com or call 1-800-300-0715 today.