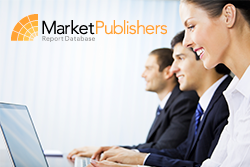 London, UK (PRWEB) September 10, 2013
MarketPublishers.com informs that a new research report on the l-(-)-carnitine hcl (CAS 6645-46-1) market prepared by BAC Reports is available in its catalogue.
The newly published report "L-(-)-Carnitine HCl (CAS 6645-46-1) Market Research Report 2013" grants access to an extensive review of the world l-(-)-carnitine hcl market. It provides comprehensive profile of the product including its detailed description; important data on the product's composition, ingredients and health hazards; toxicological and ecological information; handling, storage and transportation requirements. The research study presents an insightful overview of l-(-)-carnitine hcl properties, covers the major production methods and scrutinizes application areas in detail.
The research study provides true and unbiased insights into the l-(-)-carnitine hcl market, and uncovers detailed profiles of the leading and niche manufacturers and traders participating in the global l-(-)-carnitine hcl market. Moreover, the report contains a snapshot on the key consumers across the main end-use sectors and sheds light on the regional prices for the product.
Report Details:
Title: L-(-)-Carnitine HCl (CAS 6645-46-1) Market Research Report 2013
Published: September, 2013
Price: US$ 2,650.00
http://marketpublishers.com/report/industry/chemicals_petrochemicals/l-_-_-carnitine_hcl_6645-46-1_market_research_report.html
The following geographical markets are covered in the report: Asia, Europe and North America.
The list of the market participants profiled in the research study includes but is not limited to CMS Chemicals, Haihang Industry Co., Finetech Industry Limited, Weifang Arylchem Co., Xiamen Hisunny Chemical Co., J&K Chemical Ltd, Sunrise Chemical Co., Atomax Chemicals Co., Shanghai Kangxin Chemical Co., 3Way Pharm Inc., Kongo Chemical Co., DSL Chemicals, Santa Cruz Biotechnology and Sigma-Aldrich Corp.
Reasons to Buy:

The report is an essential source of information on the global l-(-)-carnitine hcl market;
Comprehensive product profile enhances one's knowledge of l-(-)-carnitine hcl;
Insights into the l-(-)-carnitine hcl market and data on the regional prices assits in determining the most promising markets, making informaed business decisions and planning effective business strategies;
Examination of the competitive environment helps to evaluate the competitive pressure and to gain competitive advantage in the market;
Profiles of the leading and niche companies active in the world market allow one to find prospective business partners.
More CAS chemicals reports by BAC Reports can be found at http://marketpublishers.com/members/trade_cas/info.html.
About Us:
MarketPublishers.com is a multilingual hypermarket offering a rich collection of comprehensive studies on various markets, sectors, industries, companies, etc. We perform professional services aimed to equip our clients with high-quality research products and support critical decision-making.