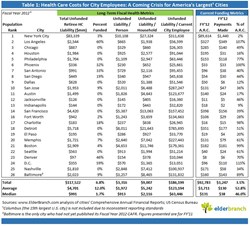 "We're not the only city that's going to struggle through what we're going through. There are over 100 major urban cities that are having the same problems we're having...We absolutely will not be the last." - Dave Bing, Mayor of Detroit
New York, NY (PRWEB) September 11, 2013
On July 18th, 2013 Detroit became the largest city in U.S. history to file for bankruptcy protection. Beyond well-known contributors like the recession and the relocation of automobile manufacturing, a little recognized fact is that, according to Detroit's proposal for creditors, underfunded health care obligations for public sector retirees, comprising 31% of the city's total debt burden of $18.25 billon, were a key driver of Detroit's decision to file.
While some have written off this unprecedented bankruptcy as a Detroit-specific issue, upon ElderBranch's careful examination of the financial reports of other large cities, it is clear that many municipalities across the country share a similar problem: massive underfunded retiree health care liabilities. Without significant changes in other major American cities, Detroit may be the first of many bankruptcies to come.
Detroit is Not Alone – New York City and San Francisco are Among the Worst Prepared; Washington D.C. and Los Angeles are Among the Best
ElderBranch examined the Comprehensive Annual Financial Reports for Fiscal Year 2012 for the 25 largest US cities to see if others have been more prudent than Detroit when it comes to the health care benefits of its city employees. The findings are presented in the attached table. More data is available at ElderBranch.com.
ElderBranch's analysis found:

The 25 largest cities in the U.S. have a total health care liability of $126.0 billion. Only $8.5 billion (6.8%) in assets has been set aside to help meet these obligations.
New York City's total liability of $86 billion is more than the other 24 cities' combined.
12 of the 25 largest cities have set aside $0 in assets to fund future liabilities.
Only 7 of the 25 largest cities (Los Angeles, the District of Columbia, Denver, San Antonio, Phoenix, San Diego, and Charlotte) have set aside assets representing more than 10% of the total health care liabilities of its city employees. Only Los Angeles and D.C. have set aside > 50%.
The median unfunded health care liability per household is $2,116. New York City, Detroit, San Francisco, and Boston topped the list with a figure > $10,000 per household. Denver, Jacksonville, and Indianapolis look the best on this metric, with an unfunded liability per household < $500.
With rising health care costs and an aging population, the under-funded health care obligations of America's largest cities are going to continue to grow without some combination of benefit reductions or changes to the current funding strategies.
Dave Bing, Detroit's Mayor, recently told ABC News, "We're not the only city that's going to struggle through what we're going through. There are over 100 major urban cities that are having the same problems we're having. We may be one of the first. We are the largest, but we absolutely will not be the last."
For details on ElderBranch's methodology, see the original article at ElderBranch.com.
About ElderBranch
ElderBranch is an online information portal that helps people find and evaluate long-term care providers. ElderBranch's mission is to support users in making the best decision possible for themselves and their loved ones.