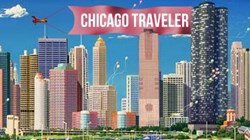 There is no reason to miss out on the rest of this month's incredible musical line up!
Chicago, IL (PRWEB) September 17, 2013
Grab a date and head to one of these upcoming September concerts in Chicago. Or go with friends. Or fly solo. There is no reason to miss out on the rest of this month's incredible musical lineup! ChicagoTraveler.com has compiled a list of the best shows to watch this month, so hop on stage and rock out.
STRFKR - Metro - September 17
It's time to bring back those pop-infused jams. Doors open at 9 pm.
The Eagles - United Center - September 20
Some people love them, some people just don't care. But either way the Eagles are flying from the radio to Chicago. Doors open at 8 pm.
The Arctic Monkeys - Riviera Theatre - September 23
British indie rock that seem to always be someone's favorite band. Tickets to this show are sold out, so either you're not going or you're begging a friend to take you.
The XX - Aragon - September 26
It's music that just feels good on the brain. Make sure to buy tickets, and maybe consider taking a sweetheart. Doors open at 7 pm.
Meat Puppets - Empty Bottle - September 27
They are still around? This show should be a blast from the past, even if the only songs you know are the ones Nirvana covered. Doors open at 9 pm.
Phoenix - UIC Pavilion - September 28
Some people can't get enough of Phoenix. They are playing with the Vaccines, so get ready for a rockin' night.
Lionel Richie - United Center - September 29
Playing a night of back to back hits, Lionel Richie will be having lovebirds cuddling up and staring into each other's eyes. Doors open at 7:30 pm.
Sigur Ros - Auditorium Theatre - September 30
The new Sigur Ros album is absolutely amazing. Plus their concerts have are an art in themselves, so be sure to snatch up these tickets before it's too late.
The rest of September is going to be busy with all of the incredible musical performances coming up. There are many other amazing Chicago events coming up, so be sure to stay on top of the game and not miss out!
About ChicagoTraveler.com:
Chicago is one of the top vacation destinations in America famous for its annual events, popular foods, and architecture and top sports teams. ChicagoTraveler.com guides travelers to all the best things to do, top places to eat and deals on the best places to stay in Chicago.