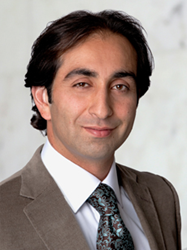 It is an exciting time to be in the business of curing cancer.
Beverly Hills, CA (PRWEB) September 17, 2013
Babak Larian, MD, FACS, is one of La Peer Health Systems' board-certified otolaryngologists, and he specializes in the treatment of thyroid disorders, as well as other conditions of the head and neck. Because September is Cancer Awareness Month, Dr. Larian is taking the opportunity to educate people about the symptoms of thyroid cancer as well as their own personal risk factors.
"It is important to know that thyroid cancer is often very treatable," said Dr. Larian. "However, self-exams and regular doctor visits are crucial for early cancer detection."
The thyroid is the butterfly-shaped gland at the base of the neck and is responsible for producing the hormones that regulate metabolism, heart rate, blood pressure, weight and body temperature. When the cells in the thyroid undergo genetic mutation, cancer can develop (often in the form of a tumor) and can metastasize (spread) to other parts of the body, if left untreated. Dr. Larian recommends that patients undergo an annual physical exam that includes a thorough check of the thyroid in order to help prevent cancer and promote early detection. In addition to these exams, Dr. Larian encourages patients to perform self-exams regularly, checking for lumps in the neck.
Knowing the symptoms of thyroid cancer can also be an extremely useful tool for early detection, according to Dr. Larian. Some of the major symptoms include a lump in the neck, difficulty swallowing, swollen lymph nodes in the neck, neck and throat pain, and even slight changes in the voice. Those who experience these symptoms are urged to seek medical advice immediately, in order to rule out the possibility of thyroid cancer.
Additionally, certain risk factors can contribute to the development of thyroid cancer, including a family history of goiter and exposure to high levels of radiation. Further, certain inherited genetic syndromes such as medullary thyroid cancer, multiple endocrine neoplasia and familial adenomatous polyposis can all contribute to a higher risk for developing the cancer.
Although the number of patients diagnosed with thyroid cancer has been steadily increasing in the United States, Dr. Larian and his world-renowned team specialize in using the latest technology that allows them to detect traces of cancer in its earliest stages, as well as cutting-edge thyroidectomy procedures.
"It is an exciting time to be in the business of curing cancer," said Dr. Larian. "We are continuously improving our techniques, and now, more patients than ever are beating their thyroid cancers and living long, healthy lives."
Babak Larian, MD, FACS, is a highly experienced ear, nose & throat specialist and head & neck surgeon for La Peer Health Systems. He was Chief of Head & Neck Surgery at Cedars-Sinai Hospital in Los Angeles from January 1, 2012 to December 31, 2012 and was named to U.S. NEWS & WORLD REPORT'S listing of Top Doctors in 2012.
Dr. Larian has extensive experience in treating diseases in the head & neck area including allergies and sinus issues, nasal obstructions, thyroid tumors, parathyroid disorders, and parotid tumors. He obtained his medical degree at UC Irvine School of Medicine, where he graduated with academic and humanitarian distinction. In 2002, he completed a 6-year residency program at UCLA in Ear, Nose, & Throat (otolaryngology), and Head & Neck Surgery.
La Peer Health Systems is an outpatient surgery center in Beverly Hills, founded by doctors and focused on providing excellent patient care alongside the most cutting-edge medical treatments available. With 50 world-renowned physicians in 14 specialties, comprehensive medical treatment is offered that takes patients from consultation to diagnosis, treatment, surgery, and ultimately aftercare. The 14 medical departments include orthopedics & sports medicine, gastroenterology, head & neck surgery, colorectal & general surgery, podiatry, ophthalmology, pain management, plastics & reconstructive surgery, gynecology, spine surgery, interventional cardiology, bariatric surgery, thoracic surgery, and anesthesiology. Unlike large hospitals, La Peer's unique structure offers extremely personal care in a safe and controlled environment.
To learn more about La Peer Health Systems, visit http://www.lapeerhealth.com.