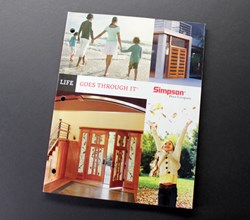 "Our new catalog is a starting point to fire the imagination," said Brad Loveless, Marketing and Product Development Manager, Simpson Door Company. "We can make doors in any design, size and wood species; if you dream it, we can make it."
MCCLEARY, Wash. (PRWEB) September 12, 2013
To help homeowners, architects and builders find ideal doors for their vision and sense of personal style, Simpson has produced a new visually rich catalog showcasing the abundant possibilities for wood exterior and interior doors. And, because many of today's homeowners want simple, yet elegant, door designs, the catalog features multiple new, contemporary door styles. http://www.simpsondoor.com
The new catalog displays a wider array of door designs in multiple wood species and different glass options, to help Simpson's customers better envision the ways they can combine different details to get the look they want.
"Our new catalog is a starting point to fire the imagination," said Brad Loveless, Marketing and Product Development Manager, Simpson Door Company. "We can make doors in any design, size and wood species; if you dream it, we can make it."
Among the new door options shown in the catalog are:

New Artist Collection® doors designed by architect James L. Cutler
Recently launched Plantation Louver Doors
New contemporary exterior and interior doors
Additional designs in the Selects Series, Mastermark® Collection, Craftsman Collection, and in the Traditional Doors and Exterior and Interior French door product lines
In addition to the print catalog, Simpson offers easy-to-use online tools to help simplify the door selection process. These include an extensive photo gallery of doors in real house settings, along with Simpson's Test Drive a Door and Glass Taste Test design tools. The Test Drive helps users see how a specific door would look on their home, and the Taste Test lets them explore different glass options for their doors.
Follow Simpson Door Company on Facebook and Twitter for information on special promotions and tips on home improvement.
About Simpson Door Company
With a century of experience, product innovation and industry-leading design, Simpson Door Company has become the trusted source for impeccably crafted wood doors. Simpson's comprehensive line of interior and exterior stile and rail doors includes hundreds of standard options from panel to French to decorative entry doors with matching sidelights and transoms. Available in a variety of wood species, sizes and glass options, Simpson provides customers with the door they desire, whether it is a standard design or a one-of-a-kind custom door. To find out more about Simpson doors, visit simpsondoor.com or call (800)-SIMPSON.