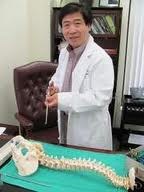 Guests are encouraged to bring their latest MRI, X-rays, CT scans, nerve diagnostic tests, or reports from previous surgeries.
West Orange, NJ (PRWEB) September 11, 2013
Dr. Liu, considered a leader in minimally invasive endoscopic spine surgery, announced today the time and location of the next spine education seminar for back pain sufferers. During the seminar Chief Surgeon Dr. Liu and Dr. Frazier of Atlantic Spine Center will educate you on endoscopic procedures as well as their philosophy behind the diagnosis and treatment of neck and back pain.
What is Endoscopic Spine Surgery?
Endoscopic spine surgery is a less invasive form of surgery that replaces the more intrusive open back procedures. Although not everyone is a candidate, Whenever possible, the advantages far outweigh those of traditional open back surgery.
Advantages of endoscopic spine surgery:

Minimal blood loss
No hospital stay
No need for general anesthesia
Less damage to muscles and tissue makes for much quicker recovery
Most people return to work after a few weeks of recovery
Endoscopic spine surgery can treat most back pain conditions that affect the back and parts of the spine as long as major reconstruction is not required.
During the presentation Dr. Liu and Dr. Frazier will take questions from the audience, and talk one on one with as many people as time permits.
Seminar Details:
Date: Wednesday September 18th, 2013
Time: 18:30 (6:30pm)
Location:
Advanced Spine Surgery Center
855 Lehigh Ave,
Union, New Jersey, 07083
Guests are encouraged to bring their latest MRI, X-rays, CT scans, nerve diagnostic tests, or reports from previous surgeries as reviews will begin at 6pm prior to the start of the lecture at 6:30pm. Reviews will continue after the presentation.
Dr. Liu and his staff will be sure that every person who is interested in more information will have a call-back time arranged for them.
Seating is limited. Because of the popularity of the seminar, sign up right away to reserve your spot.
If you are unable to attend this presentation, the next seminar will be held on September 26th at 6:30 PM.
Location:
Atlantic Spine Center
475 Prospect Avenue,
Suite 110,West Orange,
New Jersey, 07052
About Dr. Liu: Kaixuan Liu, M.D., Ph.D., is a renowned endoscopic spine surgeon and founder of Atlantic Spine Center in west Orange, New Jersey (http://www.atlanticspinecenter.com). Dr. Liu is certified by The American Board of Pain Medicine and The American Board of Anesthesiology, and is a member of The International Society for Advancement of Spine Surgery, The American Society of Interventional Pain Physicians (ASIPP), The American Academy of Pain Medicine (AAPM), The International Intradiscal Therapy Society (IITS), and The American Society of Anesthesiologists (ASA). He also serves as an international surgeon for The Spinal Foundations in England.