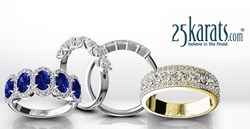 New Anniversary Ring Collection
(PRWEB) September 11, 2013
Anniversaries should always be a special occasion – and customers who want to make this year's anniversary memorable are clamoring for 25karats.com's new collection of anniversary rings. With the launch of this new collection, 25karats.com is continuing its mission to provide clients with beautiful rings that celebrate love, commitment and a couple's personal journey together.
"Weddings shouldn't be the only time when couples exchange beautiful rings," says Matt Aksu, CEO of 25karats.com. "With the launch of our new anniversary band collection, 25karats.com is helping more couples celebrate their unique love stories with meaningful diamond and sapphire rings."
From first anniversaries to gold anniversaries, customers can find rings from more than 250 styles. The new anniversary ring styles come in five different sizes, including 0.25tcw, 0.50tcw, 0.75tcw, 1.00tcw and 1.25tcw to give the best selection to their customers. The anniversary collection also features five-stone, seven-stone, and nine-stone rings in styles that range from fancy to classic. Each style is offered in 14K and 18K white and yellow gold, as well as platinum and palladium.
To aid in selecting the perfect anniversary ring, customers can view videos and hand animations with click-drag options. This represents yet another 25karats.com innovation that allows couples to pick the perfect anniversary ring based on their tastes and style.
"We know that our customers prioritize convenience and quality when shopping online for an anniversary ring," Aksu points out. "With these innovations, 25karats.com has made it easier for customers to find the right ring without the hassle."
25karats.com is already regarded by customers as one of the top online retailers for diamond engagement rings, wedding bands, and other diamond jewelry. The launch of the new anniversary ring collection represents 25karats.com's commitment to providing clients with more diamond jewelry than any other online retailer.
Clients can also enjoy 25karats.com's five-star customer service, which includes free shipping, 30-day guarantees, customer support, and certificates of authenticity.