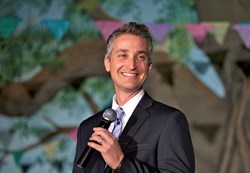 Los Angeles, CA (PRWEB) September 11, 2013
Fisher Auto Parts recently hosted motivational speaker Scott Greenberg to facilitate a leadership training program at the company's annual Regional Managers Meeting in Staunton, VA near the company's corporate headquarters. Greenberg presented to 150 managers from 15 states as well as members of the company's corporate management team. The title of the seminar was "Survival of the Finest: Thriving During Times of Growth And Change." The program was designed to help managers navigate through the company's rapid growth and operational changes.
"While other companies are tightening their belts and down-sizing, Fisher Auto Parts has maintained a consistent annual growth rate of 20 percent," says Greenberg. "With that much growth comes tremendous change."
Greenberg discussed the mental reactions and stress points people go through when adapting to change. He also talked about how to maintain a strong corporate culture as the company expands.
"Employees love this company and want to maintain its family-like culture. That will necessitate identifying and preserving what they like about their group dynamic. They will have to be increasingly conscientious about holding true to company values.
Prior to the meeting, Greenberg surveyed managers as well as store level employees to learn more about current conditions, concerns and perspectives on the company's direction. At the meeting, managers participated in a series of discussions to evaluate their communication styles, their values and thoughts about how to improve their culture.
About Scott Greenberg
Scott Greenberg is a motivational speaker specializing in resilience, peak performance, and emotional intelligence. His personal battle with cancer and inspiration from his "Schindler's List" holocaust surviving Grandmother are the basis for some of his motivational stories. Since 1993, Scott has spoken to a variety of schools and organizations looking to improve their leadership and work environment. Clients include Nike, The Wyndham Hotel Group, Cargill International and the U.S. Air Force. Scott has written three books on leadership and is a contributing author to "Chicken Soup for the College Soul." For more information about Scott Greenberg, visit http://www.scottgreenberg.com or call 1-800-450-0432 (or outside the U.S. 1-818-785-5202).