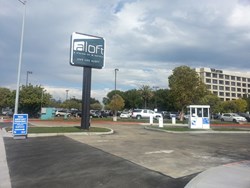 We have always believed that good service doesn't have to come with an expensive tag and we want our customers to fell the same.
San Francisco, CA (PRWEB) September 12, 2013
Greenbee Parking (http://www.greenbeeparking.com), a fast growing airport parking company, has announced a series of fabulous new deals for travelers using the busy San Francisco (SFO) airport. The ease with which one can access these deals online and avail of them says a lot about how the company understands time constraints and travel emergencies. There is something for everyone here with varied and diverse options to match different travel needs. To top it all, these deals come at amazingly affordable prices which means there is no longer any need to hunt for San Francisco airport parking coupons (http://www.greenbeeparking.com/CALIFORNIA/SFO/Coupons-for-discount-SFO-parking/page.html), in order to save on parking expenses. Rising airport parking expenses has been a constant source of worry for travelers especially for frequent travelers. Greenbee's advent into the scene has been fortuitous for all because they offer a significant slash in these expenses and also offer varied parking options which come with ample security for the vehicle even if they are left there for days.
"We have always believed that good service doesn't have to come with an expensive tag and we want our customers to feel the same," said Christine Cooper – Marketing Coordinator, Greenbee Parking. "Our constant focus is to come out with newer options in parking so that travelers using SFO can secure spots for their vehicles without paying through their noses or having to look for San Francisco airport parking coupons to save money."
San Francisco Airport Parking Information
San Francisco rates as popular destination both in terms of business and leisure travel. It is home for some of the top industrial and corporate names and the Silicon Valley has further ensured that it sees more business travel than many other cities in the US. It is one of the leading airports in the country and one of the top 20 in the world in terms of passenger traffic. This means that along with the business travelers the airport is also a conduit for a large volume of tourists round the year. Apart from tourists for the state it also acts as a convenient take off point for travelers going to pacific hot spots. Heavy ground at SFO is therefore not a surprise but the dearth of enough parking spaces is a constant source of congestion around the airport. However, with Greenbee parking's arrival on the scene things have started looking up. the company, though young, has already come up with multiple parking options which are meant to suit both long term as well as one time customers. With possibilities of almost 75% savings, Greenbee's new deals can beat all San Francisco airport parking coupons hands down.
The Greenbee Airport Parking Solution
Greenbee Parking has effectively bridged the gap between parking problems and solutions at both airports and major seaports. They have tied up with major hotels for available parking spaces at discounted rates which they offer their customers across the nation who can now save up to almost 75% of their parking costs.
All they need to do is visit Greenbee Parking, select their city or airport of choice, choose the parking spot and pay through a secured payment gateway. There is a comprehensive list of airports and parking spots to choose from. Greenbee's wide network makes it possible for every customer who logs in to find a solution.
About Greenbee Parking
Greenbee Parking is the nation's most innovative long term parking company, with a new way of making long term parking affordable. The company is rapidly adding new airports to its network.