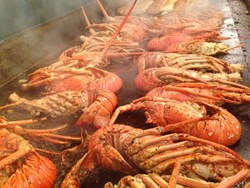 'Lobster Fest is always a special occasion and a few years back we set the record for most seafood served with Guinness Book of World Records,' said Mike Ungaro, Vice President San Pedro Fish Market
San Pedro, CA (PRWEB) September 11, 2013
History making is rarely something that literally bursts with flavor, which is why the feat to be completed this Friday is so incredibly fun.
California's largest seafood market and restaurant, San Pedro Fish Market and Restaurant, has partnered with the Port of Los Angeles, the nation's most important port to serve the largest single serving of lobster on record.
"Lobster Fest is always a special occasion and a few years back we set the record for most seafood served with Guinness Book of World Records," said Mike Ungaro, Vice President of San Pedro Fish Market. "These are real, live, fresh, Maine lobsters that will be served by the thousands, and most importantly over 1,000 pounds will be served on a single tray at once!"
The serving of lobster will be achieved by placing over 1,000 pounds of fresh steamed Maine lobsters onto a single glass serving tray for Lobster Fest participants, from which the thousands of attendees may be served their lobsters.
Attracting tens of thousands to the San Pedro Ports O' Call shopping and restaurant district each year, this year's Lobster Fest, which runs from Friday, September 13 to Sunday, September 15, 2013 and promises to be a truly record shattering event.
"San Pedro Fish Market has had its biggest year ever and last year's Lobster Fest was the best ever, so we really put our heads together to make this festival very special," continued Ungaro. "Our meals range from $20 for a whole Maine Lobster to $89.99 for a monster, Giant Lobster plate with a huge 3 to 3.5 pound lobster on your plate in addition to incredible VIP, first in line, type service throughout the festival. And as a bonus, you'll get to earn your place in history one bite at a time!"
Lobster Fest 2013 Giant Lobster VIP's will be given a 'first in line' level of service from their complimentary entry into the Festival to their huge dinner service, to the gifts of collectible t-shirts to help signify their participation in making Lobster history. To reserve a Giant Lobster ticket, go to thegiantlobsterplate.eventbrite.com.
For more information on LobsterFest 2013, click http://ow.ly/oBFhS.
For more information on San Pedro Fish Market and Restaurant, go to their Facebook page at http://ow.ly/ob0xa.
About San Pedro Fish Market & Restaurant
Founded in 1957, San Pedro Fish Market & Restaurant has grown into a top rated destination on the LA waterfront whose seafood, Lonely Planet described by saying, "Seafood feasts don't get any more decadent than at this family-run harbor-view institution." Routinely serving more than 10,000 diners each week, San Pedro Fish Market is also one of the most recognized brands in the frozen food section of premium and mass market supermarkets across the Southwest and Hawaii selling in four microwavable versions of our world famous shrimp tray. Just as at the restaurant and market, all ingredients are the freshest available and meant to be prepared and enjoyed directly in the kitchen with your favorite ice cold beverage. For more information, go to our website at http://ow.ly/obvmS.