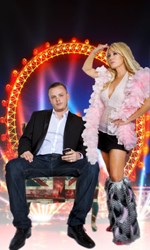 Her library includes over fifty "radio ready" tracks featuring her characteristic style
Reno, Nevada (PRWEB) September 16, 2013
American recording artist Christine Storm and British powerhouse music producer and arranger Nat Powers have announced they are combining their talents to write songs for some of the top recording artists of today.
Storm has performed throughout the United States and Europe and has been a prolific songwriter for her entire adult life. Her library includes over fifty "radio-ready" tracks featuring her characteristic style of quality hooks and melodies combined with thought-provoking lyrics. She has recently teamed up with Powers on her forthcoming songs "Storm," "Last Night Love Hurt," "In Reno," "Meet me at the Club" and "Have it All". Her new CD is nearing its release.
Powers is an internationally known music producer and arranger from Leicester, England who has become one of the first British musicians to work with hip-hop figures such as Darryl McDaniels of Run DMC, Spice One and a majority of the iconic Death Row Records roster. He was also the first Brit to ever be mentored by multi-platinum rapper and producer Sam Sneed.
The 2 are using state-of-the-art technology to write and produce music on 2 continents targeted for today's biggest artists. Currently their collaborations are rocking the Internet on "Reverb Nation" where the powerful club-based soul and techno dance cuts have been racking up very impressive numbers.
Storm and Powers also recently united for a long form interview in Reno, Nevada, Storm's home. The 2 talented musicians talk about their inspirations, techniques and the challenges of a dual continent song-writing partnership. That interview can soon be seen on many social media outlets including YouTube.
For additional information or to book Christine, please contact Christine at visit (775) 338-7844 or connect with Christine on Facebook: http://www.facebook.com/christinestormsinger.