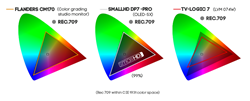 "It has always seemed odd that talented cinematographers are forced to use on-camera monitors that are limited by either resolution or color," says Dale Backus, co-founder of SmallHD
Cary, North Carolina (PRWEB) September 11, 2013
Cinematographers can finally use an on-camera monitor that reproduces their shot the same way it will be seen in post production, thanks to the latest equipment recently unveiled by local technology firm SmallHD. In many professional setups, large "reference quality" monitors are used to accurately judge color, but they are often too bulky to function well in today's fast-paced shooting environments.
SmallHD's newest product, the DP7-PRO OLED-SX is the first monitor to combine: 1) Lightweight, on-camera form factor, 2) "Reference" quality color reproduction and 3) True HD display resolution.
"It has always seemed quite bizarre that talented cinematographers, who are responsible for filming content with stunning quality are forced to use on-camera monitors that are limited by either resolution or color", says Dale Backus, co-founder of SmallHD. "SmallHD's aspiration has been to change that—and we have with the release of the DP7-PRO OLED-SX monitor. Now there's no excuse for visual uncertainty throughout production."
The DP7-PRO monitor has a 7.7-inch OLED screen and only weighs a half-kilogram (1.2 lbs), creating an ultra-vivid and ultra-light monitoring setup for any camera operator. With the DP7-PRO, cinematographers and directors can avoid production and post-production issues because this monitor can accurately reproduce cinema and broadcast color gamuts in true high-definition resolution.
"We are proud to announce that SmallHD has now bridged the gap between post-production, reference-grade monitors and what a cinematographer sees at the camera," said Weston Phillips, CEO of SmallHD. "Film and movie professionals can rely on the DP7-PRO OLED-SX camera-top monitor's unprecedented capability to accurately represent over 99% of the Rec.709 broadcast gamut and over 97% of the DCI-P3 cinema gamut – basically a cinematographer's dream come true!"
This new monitor creates limitless possibilities and flexibility during production and also works on virtually any film set because the DP7-PRO includes the most common inputs and outputs in HD production today, such as HD-SDI, HDMI and wireless capabilities with its X-Port expansion system. This can be a revolutionary piece of equipment for independent or small-market production crews, as the DP7-PRO can become a fast and reliable hub for input, output, viewing, and distribution.
Details about the DP7-PRO camera-top monitor can be seen at SmallHD's website, http://www.smallhd.com/rec709-dci-p3-video-reference-monitor.html, or watch a video about this new piece of equipment at (http://www.youtube.com/watch?v=y_JV0GJ3kw8).