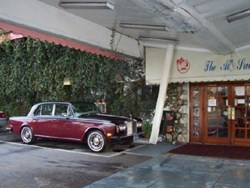 Los Angeles, CA (PRWEB) September 13, 2013
Greenbee Parking, one of the fastest-growing companies in the airport parking industry, has just announced a series of new discount deals for their customers. As a part of these deals, there will be cheap Los Angeles airport parking rates (http://www.greenbeeparking.com/CALIFORNIA/LAX) for all those availing the busy Los Angeles (LAX) airport for their travels. Greenbee has already made a name for itself in the travel industry with their flexible and easy airport parking options. With their new offers, they have made it much easier for travelers to save on travel expenses and also get peace of mind because they can now park in secure spots without paying a premium for them. Los Angeles is perhaps one of those rare global cities that attract people in hordes without the need to publicize on its tourist attractions. Naturally, passenger footfalls at the airport is high leading to high demand for better and more expanded airport parking options.
"One of the reasons we offer discounted rates here in LAX is the rising expenses in the area," said Christine Cooper – Marketing Coordinator, Greenbee Parking. "Los Angeles is an expensive city but we feel that travelers don't have to necessarily suffer because of it and should have the choice of secure and safe locations for their vehicles at very cheap Los Angeles airport parking rates. We hope to come up with more solutions in the future for making the parking even easier for both long and short term customers."
Los Angeles Airport Parking Information
Los Angeles International Airport is one of the busiest gateways in the world, with people traveling to and fro the dazzling city and also using it as a launch pad to travel to more exotic destinations in the south and along the Pacific waters. An estimated 1,000 flights fly in and out of the airport per week which can easily provide a picture of how busy the airport keeps round the year. The figures increase dramatically during the holiday season which means great business of course but also considerable addition to the nightmarish congestion that has become the trademark for the airport zone. A part of this congestion is attributed to the lack of ample parking space which means that passengers have to constantly circle the airport zone to get a good parking spot for their cars.
Greenbee Parking (http://www.greenbeeparking.com) has stepped in at an opportune time and with their discounted offers, made it possible for travelers to have other options which will allow them to avoid this congestion and save both time and money. The new cheap Los Angeles airport parking rates have been particularly designed for those customers who have to use the airport frequently which means they had to face both the expense and the congestion constantly, till now.
The Greenbee Airport Parking Solution
Greenbeeparking.com is the connection between consumers and parking vacancies in close proximity to major airports and seaports. The parking spaces are very affordable because the company has negotiated discounted rates with major hotel chains for the parking spaces that are not currently occupied. Here's how it works:
Greenbee Parking puts the available inventory of parking spaces on their website to be reserved by business and leisure travelers looking for cheap airport parking. This alternative method for finding parking equates to significant savings for the traveler.
About Greenbee Parking
Greenbee Parking is the nation's most innovative long-term parking company, with a new way of making long-term parking affordable. The company is rapidly adding new airports to its network.