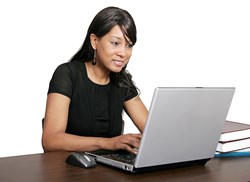 "In the old economy," explains Keith Bachman of WR Hambrecht + Co, "corporate value and value creation were defined primarily through physical and financial assets." In contrast, he explains, "the new economy puts a premium on intellectual capital."
San Diego, California (PRWEB) September 17, 2013
Experts say that in the past 50 years or so, the entire basis of the U.S. economy has shifted from a production-based to a knowledge-based economy--where value is defined by "intellectual capital" instead of physical and financial assets. Such an assessment puts employee learning in a whole new light and places increased pressures on corporate employee training and development efforts.
Learning-Dynamics is a company specializing in custom training solutions. This week, they are featuring a white paper--available through the company website--which presents current research and information about some of the training challenges facing today's organizations. The paper also compares eLearning products and solutions with traditional instructor-led methods and weighs the two against each other for cost-effectiveness, learning efficiency, and suitability for the modern working adult. Also available is an accompanying infographic, which highlights key points of the paper.
Project and team leaders, training mangers, and other leaders with training decisions to make can download the paper and review what leading experts are saying about employee training and development and how employers can best prepare themselves to build a competent workforce.
As the paper highlights, organizations still using instructor-led classroom sessions to accomplish most of their training, may need to begin considering eLearning solutions, such as web-based training and webinars. eLearning is recognized to be more cost-effective, more efficient, and more effective for adult learners than traditional methods--particularly for growing employee populations with rapidly changing learning needs.
About Learning-Dynamics:
Learning-Dynamics provides learning strategies for 21st century organizations. Owner Karen Fields combines a uniquely focused academic background in education, visual communication, and organizational design with over 20 years of experience in human resources, talent management, and training development spanning multiple industries. Along with her team of analysts, writers, and designers, Karen specializes in merging technology and creativity to build optimum learning solutions for organizations.
Anyone responsible for employee training and development decisions is encouraged to download the white paper and companion infographic from the company website:
http://www.learning-dynamics.com/resources