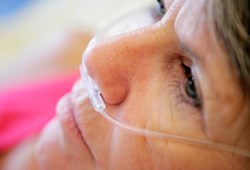 Similarly to the U.S., home-based devices such as portable concentrators are increasing in popularity.
Vancouver, BC (PRWEB) September 11, 2013
According to a report from iData Research entitled, Markets for Anesthesia, Respiratory and Sleep-Management Devices published September 1st 2013, the European oxygen therapy device market mimics former growth trends in the U.S. as it climbs to nearly €59 million and is expected to reach above €74 million over the forecast period. Generally, these devices are used to treat patients with chronic obstructive pulmonary disease (COPD) which includes chronic obstructive bronchitis and emphysema. COPD is predicted by the World Health Organization (WHO) to be the third leading cause of death worldwide by 2030 and it's estimated that over 80% of the patients on oxygen therapy are, or were once smokers.
Currently access to oxygen therapy in Europe most commonly involves traditional compressed gas cylinders in conjunction with scheduled compressed oxygen delivery. The report also states that within the concentrator market, the 2012 market split shows stationary and portable devices representing 88.4% and 11.6% of the market, respectively. However, similarly to the U.S., home-based devices such as portable concentrators are increasing in popularity as they show long-term cost effectiveness and greater convenience for patients. Market value is expected to grow, largely driven by increasing demand brought on by higher rates of new patients suffering from COPD and other respiratory diseases.
"In 2012, the largest market for oxygen therapy devices was France, which represented 12.6% of the overall market," says Dr. Kamran Zamanian, CEO of iData, "Among Western European countries, France has the largest number of patients on long-term oxygen therapy, and the extensive use of oxygen concentrators is encouraged by some of the highest reimbursement rates in Europe." In contrast, the market for alternative oxygen therapy devices in Italy is well below what population levels, or the number of COPD patients, would suggest. This is largely because the reimbursement and regulatory system in Italy is heavily weighted toward the use of liquid oxygen.
The market leader for oxygen therapy is Invacare, with over half of the overall market share. They have a strong presence in both the stationary and portable concentrator markets, as well as transfilling devices. Competitors such as Philips Respironics, DeVilbiss, AirSep, Inogen One, and SeQual all follow.
This information is from iData's global report series on Markets for Anesthesia, Respiratory and Sleep-Management Devices which includes the latest data, market-analyses and competitor profiles for over 60 segments for the U.S. Austria, Belgium, Denmark, Finland, France, Germany, Italy, Luxembourg, Netherlands, Norway, Portugal, Spain, Sweden, Switzerland, and U.K.
Click here for a free summary of this research.
About iData Research
iData Research is an international market research and consulting group focused on providing market intelligence for medical device and pharmaceutical companies. iData covers global research in: anesthesia, respiratory, sleep-management, EMR and more.