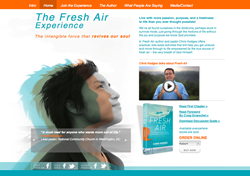 "Authors often desire to use their social influence to promote beyond the launch but simply lack the tools to do it well."
Chicago, IL (PRWEB) September 12, 2013
As publisher marketing staffs strive to do more with less, one Chicago marketing agency is moving in to fill the gap recognizing its unique blend of talent and expertise to directly help authors who wish to increase visibility for their books.
Verve Marketing Group currently provides web development and digital marketing services for some of today's largest trade book publishers. The move represents an expansion to offer services directly to authors, in particular, to those wishing to build a personal brand, whether as a published or self-published author.
"We find ourselves in the unique position of having both extensive book marketing and equally important – expertise in branding and online marketing communications – website, social, email, SEO – to gain visibility for products and services," says Joan Begitschke, Principal, Marketing and Brand Strategist at Verve. "Authors often desire to use their social influence to promote beyond the launch but simply lack the tools to do it well," says Begitschke. "Some enlist the help of friends or seek out advice on the web. Others may hire individuals such as a consultant or designer to help with an individual marketing component. What we offer is the ability to do it better through a coordinated effort - strategy through creative execution with an understanding of how it all works together,"says Begitschke.
Publishing Isn't What It Used to Be
With advances in technology, highly motivated would-be authors who weren't able to get published by a traditional publisher five years ago are increasingly taking it upon themselves to try it themselves. The group, "Book Writing, Self-Publishing, and Marketing for Business People" on professional networking site LinkedIn reflects the trend. Discussions by the group's almost 6,500 members run the gamut on book editorial, distribution, marketing, and production. Many self-published authors are writing their first books as a means of establishing credibility for content expertise related to a career other than as an author and look to groups such as these for advice.
Even those who are published understand that it's just not realistic to assume that publishers can continue to market their books for years - or even months - after the launch of a book. Publishers are pushed to the edge with diminishing margins as the trend toward lower-priced ebooks takes an increasingly larger share of total book sales. Unless a book is deemed an "A" title with unusually high sales potential, it's often financially unfeasible for a publisher to take on the risk and cost of promotion to the degree that most authors would like and need in order to maximize sales of their titles.
Moreover, authors themselves may have personal goals for their titles that are not 100% in sync with those of their publisher. For example, big time authors may have titles with several publishers, which can make it difficult for any one publisher to strongly market the author by leveraging marketing dollars across a larger title list.
"We can create a site for the author with a core message, look and feel that reflects the author as the brand, as opposed to an individual book title. Sometimes they are almost one and the same, but other times, the author brand is broader than any single title," says Begitschke. On an author website, Verve Marketing Group will create a branded look and can showcase the author's entire title list as well as include site functionality that fits his or her communication style. Most authors like to blog – they are writers after all. But others who may have written their book as a means of credibility for content expertise may instead prefer that the site focus on promoting and capturing requests for speaking engagements.
Verve Marketing Group is a creative marketing agency in Chicago that specializes in brand strategy, web development, and online digital and print marketing communications. The team's collective book marketing experience includes marketing over 1,000 books over the past 25 years. Principal and founder Joan Begitschke led marketing for a leading trade book publisher division before going to the agency side in 2005 and also has experience marketing professional medical books. Creative Director Seth Guge, who had a decade long run with large Chicago ad agencies, started his career in small design firms and early on, received recognition in peer respected Print Magazine for his design of Michael Jordan's book, For the Love of the Game. Verve Marketing Group agency awards include several website awards specifically within the book industry.