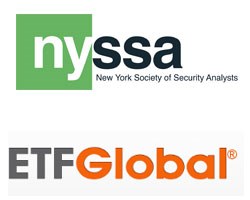 New York, NY (PRWEB) September 11, 2013
The New York Society of Security Analysts has partnered with ETF Global to hold Exchange Traded Product Investing & Trading, a full-day conference where recognized experts from the private and public investment sectors will discuss developments in exchange traded products on September 20, 2013.
Exchange traded products (ETPs) have proven to be a valuable component for investors' portfolios, ranging from the most sophisticated institutional money managers to novice investors. Exchange traded products generally include exchange traded funds, exchange traded notes, exchange traded commodities, exchange traded currencies, as well as some other specialized products. As with any investment vehicle, to optimize the benefit from ETPs, investors and traders must understand and use them effectively.
This advanced, one-day forum is designed to assist sophisticated financial professionals to further evaluate the opportunities and pitfalls of investing and trading exchange traded products by arming them with practical applications. The program also helps finance professionals identify and analyze emerging trends within the ETP industry. After the conference, there is a one-hour cocktail reception to meet some of the day's speakers and network with fellow attendees.
The agenda features these presentations:

Dynamic Risk Management
Quantitative ETP Selection
Portable Alpha with ETPs
Fading and Emerging ETF Trends
Impact of the Jobs Act on Active ETPs
Options on Exchange-Traded Products
High Frequency Trading: Are Flash Crashes a Way of Life?
Expert Panel: The Increasing Role of ETPs Within the Fixed Income Markets
The conference will be held on September 20, 2013 from 8:30 a.m.–4:30 p.m., and the reception will be from 4:30 p.m.–5:30 p.m. at NYSSA Conference Center, 1540 Broadway, Suite 1010, New York, NY 10036.
About NYSSA
Established in 1937, the New York Society of Security Analysts (NYSSA) is a leading forum for the investment community. NYSSA's mission is to promote best practices and the highest professional and ethical standards in the industry. NYSSA is a nonprofit industry organization that provides education and a venue for policymakers and practitioners to discuss the major issues that drive the finance industry and economy. The Society also strives to assist its members and other financial professionals in their career development. With nearly 10,000 members, NYSSA is the largest of the 135 societies of CFA Institute, which has more than 105,000 members globally.
About ETF Global
ETF Global (ETFG) is a leading provider of investment decision support applications, proprietary risk analytics and educational offerings to a diverse, worldwide client base. The ETFG platform supports the investment process with a variety of strategies to pursue return, manage risk, utilize investment analysis and generate investment ideas.