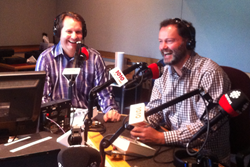 As a CBC columnist, I want to help Canadians find their own adventures!
Calgary, Alberta, Canada (PRWEB) September 30, 2013
Jamie Clarke, the Founder and CEO of LiveOutThere.com was signed on this summer as a contributing columnist for CBC radio's popular The Homestretch program with Doug Dirks. His weekly segment; Get Out There with Jamie Clarke, offered helpful tips, engaging stories and inspirational experiences from Clarke's many years as an outdoor adventurer.
Clarke has spent his life exploring the vast natural wonders of our world from its soaring peaks to its shifting deserts. He has crossed Arabia's Empty Quarter, climbed the Seven Summits and been on four expeditions to Everest, two of which successfully reached The Top of the World. After all of his travels, it is still Canada and the mighty Canadian Rockies that call him home.
"We live in one of the most beautiful natural playgrounds in the world," says Clarke, "The provincial and federal park systems in Canada make these landscapes accessible to anyone – they are not just for driving through!"
But Clarke knows that getting out into the wild outdoors can be intimidating: what to bring, how to prepare, where to go, who to go with, what skills are needed, what to do about wildlife, and any number of perceived barriers to venturing into the Canadian wilderness. Get Out There with Jamie Clarke addresses and removes some of these major obstacles to make outdoor activities more accessible for everyone from the expert to the novice explorer. He shares his knowledge and experience along with helpful tips, gear lists, trip suggestions, risk management ideas, and most of all his overwhelming love for the natural world and the ever expanding variety of human-propelled means to explore it. Clarke remarks, "The greatest moments in my life, the moments I look back on and laugh about, cry about and re-live over and over, are the times I was outside with the people I love. In my life, and now as a CBC columnist, I want to help Canadians find their own adventures by inspiring them to get out and run, bike, ski, hike, paddle, climb, even stroll, through our beautiful country."
As summer programming came to a close this month, CBC radio opted to continue airing Get Out There with Jamie Clarke throughout the winter. New segments will air every month on the Homestretch, and Clarke will have a whole new set of winter adventure stories and safety tips to share with snow-bound Canadians.
About LiveOutThere.com
LiveOutThere.com is is Canada's fastest growing online active lifestyle retailer. Independently operating since 2009, this passionate group of outdoor enthusiasts are purveyors of the gear they love from leading brands like Arc'teryx, Icebreaker, The North Face, Mountain Hardwear, Marmot and Patagonia. It's all in the name: this company exists to help Canadians live out there.