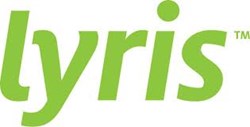 San Francisco, Calif. (PRWEB) September 11, 2013
Lyris, Inc.(LYRI), a global digital marketing provider, today announced its senior vice president of product and strategy, Brennan Carlson, will be among the experts speaking at SES San Francisco, taking place this week.
Carlson will be joined on a panel with executives from Adobe, Direct Marketing Association and Mass Relevance. The discussion will cover the challenges digital marketers face when translating business objectives into manageable data-driven approaches.
WHAT: SES San Francisco
SESSION: How to Determine Business Objectives with a Data-Driven Approach
WHEN: Friday September 13, 2013, 10:45 a.m. to 11:45 a.m. PT
WHERE: San Francisco Marriott Marquis
HASHTAG: #SESSF
SES San Francisco features a comprehensive agenda to guide conference goers through the new marketing landscape of converged media. Attendees will learn about strategies that drive results through marketing campaigns across all media channels. Led by industry practitioners and innovators, the SES educational program is designed to help marketing professionals, brand advertisers, agencies, and business leaders meet their needs regardless of their experience level.
About Lyris
Lyris is a global provider of digital marketing solutions that help companies engage with customers in more meaningful ways. Lyris products and services empower marketers to design, automate, and optimize data-driven interactive marketing campaigns that facilitate superior engagement, increase conversions and deliver measurable business value. Lyris' high-performance, secure and flexible digital marketing platforms improves marketing efficiency by providing automated digital message delivery, robust segmentation, and real-time social, mobile, and interaction analytics. The Lyris solutions portfolio is comprised of both in-the-cloud and on-premise solutions - Lyris HQ, Lyris LM - combined with customer-focused services and support. More than 5,000 companies worldwide partner with Lyris to manage and execute sophisticated digital marketing campaigns across email, social, Web and mobile channels.