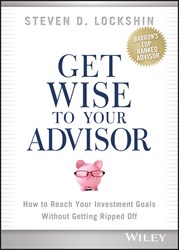 This sharp and accessible guide can help you separate the solid from the slippery and put your own financial life on firmer ground. — Daniel Pink, New York Times bestselling author of Drive and A Whole New Mind
Hoboken, N.J. (PRWEB) September 13, 2013
Most Wall Street advisors work on a commission basis, so the more financial products they convince clients to buy the more money they make. So how do we know whether an advisor is offering wise guidance or just using us to line his pockets? In Get Wise to Your Advisor: How to Reach Your Investment Goals Without Getting Ripped Off (Wiley; September 2013), former Wall Street insider Steven Lockshin pulls back the veil on the conflicts of interest that can put what's best for clients at odds with what's best for the advisor and shows us how to take back control of our financial future.
Ranked as a top independent advisor in the United States by Barron's, Lockshin knows exactly how helpful a good advisor can be and just how much damage a bad one can do. In the book, he gives us the tools and insight needed to find an advisor who will put the client's well-being first—a trusted fiduciary who is knowledgeable and doesn't work on commission. Based on the principles and ethical standards that have made his firm a leader in the industry, Lockshin explains what to look for in an advisor and what questions to ask before trusting anyone with our money.
"Consumers have serious power," Lockshin tells readers. "As individuals, they have the power to protect their interests by choosing wisely. As a group, they just may have the power to do what lawmakers and regulators seem unable to do: Through exercising the power of choice, and backing it with the power of their wallets, they can change the very way that the financial advisory industry operates."
And with the modern technology and wealth of information available today, individuals may just be their own best advisor. Get Wise to Your Advisor also offers effective tools and strategies for "do-it-yourself" investors who want to plan long-term goals, manage their asset allocation, or employ low-cost tax-efficient investment strategies.
About the Author:
Steven D. Lockshin is the founder and chairman of Convergent Wealth Advisors, one of the nation's leading wealth management firms, providing investors with objective advice, flexible investment solutions, and transparency. He helped pioneer the open architecture approach to investing and was an early adopter of asset allocation strategies for high-net-worth clients. Steve has received many industry accolades, including being ranked by Barron's as the #1 advisor in California for the past two consecutive years. Steve ranked #2 on the Barron's Top 100 Financial Advisors list in 2013, his third straight year as one of the top ten advisors in the nation.