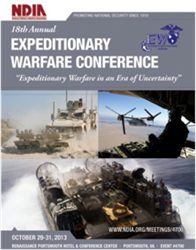 Chief of Naval Operations, Admiral Jonathan Greenert, USN will be the lunch Keynote Speaker on October 30, as a part of the 18th Annual Expeditionary Warfare Conference, held on October 29-31, 2013 in Portsmouth, VA.
Arlington, VA (PRWEB) September 11, 2013
National Defense Industrial Association (NDIA) has announced that the Chief of Naval Operations, Admiral Jonathan Greenert, USN, will speak at its 18th Annual Expeditionary Warfare Conference at 12:45PM EST on Oct. 30, 2013 in Portsmouth, VA.
The Conference, which will be from Oct. 29-31, 2013 at the Renaissance Portsmouth, will address the theme, "Expeditionary Warfare in an Era of Uncertainty."
CNO Adm. Greenert became the 30th Chief of Naval Operations on Sep. 23, 2011. In this capacity, he is responsible to the Secretary of the Navy for the Command, utilization of resources, and operating efficiency of the operating forces of the Navy and of the Navy shore activities assigned by the Secretary. Admiral Greenert is a four star admiral who graduated from the Naval Academy in 1975.
Adm. Greenert began his career as a submariner which culminated in the command of the USS Honolulu (SSN 718) from March 1991 to July 1993. Following that assignment, he was the Commander of various fleets, and served in various financial management positions until August 2009, at which time he became the Vice Chief of Naval Operations. He is a recipient of various personal and campaign awards, including those associated with unit performance, an aspect that he considers most satisfying and representative of the naval service.
The Conference will feature the following addresses and sessions:

Confirmed Addresses by Admiral William E. Gortney, USN, Commander, U.S.
Fleet Forces; Major General William C. Hix, USA, Deputy Director/ Chief of Staff, Army Capabilities Integration Center, United States Army Training and Doctrine Command; Major General James N. Post, III, USAF, Director of Operations, A-3, Headquarters Air Combat Command; Major General John W. Nicholson, Jr., USA,
Commanding General, 82nd Airborne Division; Vice Admiral Robert C. Parker, USCG, Commander, Atlantic Area; Commander, Defense Force East, U.S. Coast Guard; Mr. Ashley G. Johnson, SES, Department Head (Acting), Expeditionary Maneuver Warfare & Combating Terrorism Department, Office of Naval Research; Dr. Craig Woolsey, Associate Professor & Assistant Department Head for Graduate Studies,
Aerospace and Ocean Engineering, Virginia Tech; Mr. Stuart Whitehead, SES, Deputy Director, C2 Integration, J-6 Staff; Major General K. Frank McKenzie, Jr., USMC, Director, Headquarters U.S. Marine Corps, QDR Integration Group (QIG); Rear Admiral Scott Jerabek, USN, Commander, Navy Warfare Development Command; The Honorable Robert Work, Chief Executive Officer, Center for a New American Security; Rear Admiral Frank A. Morneau, USN, Commander, Navy Expeditionary Combat Command; Mr. Carl R. Siel, Jr., Executive Director, PEO LCS; Admiral Samuel J. Locklear, USN, Commander, U.S. Pacific Command; Major General Robert S. "Whaler" Walsh, USMC, Director, Expeditionary Warfare, OPNAV N95 and four USN Branch Heads.
Sessions that focus on: Current Operational and Joint Expeditionary Warfare; Emerging Technologies: Autonomous Systems/C4ISR/Network Architecture/Cyber
Support to Expeditionary Warfare; Autonomy and Unmanned Systems – Future Human/Unmanned Hybrid Force; C2 and Cyber Considerations Facing the Hybrid Force; Concepts and Reality; New Concepts and Political Reality: QDR, Mine Warfare and Air/Sea Battle; Programs, Mines and Air/Sea Battle and the Naval Expeditionary Warfare Session.
For further information and to register, go to http://www.ndia.org/meetings/4700.
About NDIA:
The National Defense Industrial Association (NDIA) is America's leading Defense Industry association promoting national security. NDIA provides a legal and ethical forum for the exchange of information between Industry and Government on National Security issues. NDIA members foster the development of the most innovative and superior equipment, training and support for warfighters and first responders through our divisions, local chapters, affiliated associations and events.