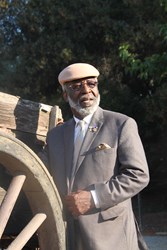 Lt. Henry A. Schenk was the bravest man I have eve known, or will ever know.
Washington, DC (PRWEB) September 12, 2013
1st Lt. Henry A. Schenk was born 11 February 1922 in Vienna, Austria and migrated to America at the age of six. He served in WWII and received an ROTC commission at Lafayette College in Easton, PA. During the Korean War, 1st Lt. Schenk served as the Executive Officer of Company K, 3rd Battalion, 9th Infantry Regiment, 2nd Infantry Division. On 14 August 1952, while on a mission to rescue missing American soldiers as an after math of Operation San Quinton, 1st Lt. Schenk lost his life in a fierce battle with the enemy, as his patrol was ambushed, killing every man except two. 1st Lt. Schenk fought fiercely and attempted to save each of his men, putting their lives before his own. His body has never been recovered.
Mr. James McEachin was one of the men who survived the ambush attack. A noted American actor, award-winning author, and Silver Star, multiple-wound Purple Heart recipient, McEachin has been searching over 60 years to find 1st Lt. Schenk's family so that he could relay to them Schenk's bravery and heroism on that fateful day, which ultimately saved McEachin's life.
Recently, 1st Lt. Schenk's Purple Heart was discovered by Mrs. Kimberly Paller in Fayetteville, NC. Paller contacted McEachin through Facebook after reading on the internet of his significant history with Schenk and McEachin's lifelong search for the family. Captain Zachary Fike of Purple Hearts Reunited stepped in at the behest of the Military Order of the Purple Heart and remaining family members were quickly located and notified of the Purple Heart's return. McEachin was received the Purple Heart from Paller on the 60th Anniversary of the Korean War Armistice in Mobile, AL. McEachin will bestow the Purple Heart to Schenk's remaining family in an exchange ceremony appropriately taking place at the National Korean War Memorial. Purple Hearts Reunited, The Military Order of the Purple Heart Foundation, and The Gary Sinise Foundation are sponsoring the event.The Paller family will attend.
For event information and/or to attend, please contact Purple Hearts Reunited at purpleheartsreunited(at)gmail(dot)com. Forward media inquiries to direct(at)jamesmceachin(dot)com.