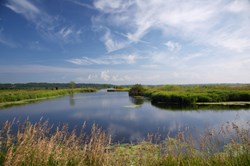 "By sharing information and experiences across basins in many countries, we can support efforts to sustainably manage all great rivers for people and nature," said TNC's Michael Reuter.
Arlington, VA (PRWEB) September 11, 2013
For more than 20 years, the Bank of America Charitable Foundation has supported land conservation projects through The Nature Conservancy—including a partnership to protect forests in Brazil, China and Indonesia. Building upon the $20 million that the bank has committed over the years, Bank of America recently provided $250,000 to help the Conservancy's Great Rivers Partnership (GRP) promote freshwater conservation, targeting the Mississippi and Colorado river basins.
"These systems are a source of drinking water for millions. They power our homes and businesses, support agriculture, and—in the case of the Mississippi River—provide critical routes for transporting goods," said Alex Liftman, Global Environmental Executive for Bank of America. "We commend the Conservancy for their ongoing commitment to improving quality of life by protecting and preserving natural resources."
Within the Mississippi River Basin, the GRP supports innovative floodplain management and river reconnection strategies at the Conservancy's Emiquon Preserve on the Illinois River and Louisiana's Upper Ouachita River National Wildlife Refuge. These sites demonstrate the benefits of natural areas along rivers, including reduced flood risk for communities, improved water quality and enhanced wildlife habitat and recreational opportunities.
In the Colorado River Basin, where there is no longer enough water to meet demand, the Conservancy supports innovative water management on Arizona's San Pedro River, the Green River in Utah, and the Lower Colorado River Delta in Arizona and Mexico. The Conservancy works with cities, farms and businesses to devise new ways to store, allocate and distribute water equitably so that all those who need water—including the basin's irreplaceable natural habitats—can thrive.
According to GRP Director Michael Reuter, "Whether it's water scarcity or flooding, pollution or energy development, the issues at large rivers worldwide are remarkably similar. By sharing information and experiences across basins in many countries, we can support efforts to sustainably manage all great rivers for people and nature."
In addition to the Colorado and Mississippi river basins, other basins of focus for the GRP include the Magdalena and Tapojós in South America, the Ogooué and Niger in Africa, and the Yangtze and Mekong in Asia. Learn more at GreatRiversPartnership.org.
xxxxx
The Nature Conservancy
The Nature Conservancy is a leading conservation organization working around the world to protect ecologically important lands and waters for nature and people. The Conservancy and its more than one million members have protected nearly 120 million acres worldwide. Visit The Nature Conservancy on the Web at nature.org.
Bank of America Corporate Social Responsibility
Bank of America's commitment to corporate social responsibility (CSR) is a strategic part of doing business globally.Learn more at bankofamerica.com/about and follow us on Twitter at @BofA_Community.