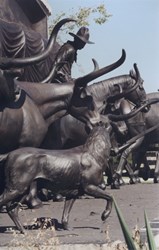 Duncan, OK (PRWEB) September 11, 2013
Make plans to visit Duncan and celebrate our western heritage alongside The Chisholm Trail Heritage Center and The Chisholm Trail Arts Council for our annual Western Spirit Celebration this September 13 and 14th. Two days of live music, informative demonstrations, traditional western vendors and a lot of good old fashioned fun make a perfect outing for church/senior/youth trips and the family.
Friday is Seniors Day, with the longhorn herd arriving at 10 am. The longhorns will be on the property both days arriving at the same time each day, so be certain to visit them for a photo opportunity. Free health checks and health programming will be available for seniors. Horseshoes, dominoes, bingo with fabulous prizes, a spelling bee, a liar's contest and an old fashioned mustache and beard contest are on the schedule along with live music and dancing on the Chisholm Trail. The Cowboy Opry entertainers will play from 7 pm until no one is dancing anymore. Be certain to pop into the Front Porch Weekend Winedown from 5-10 pm to taste Oklahoma wines and beers. Admission is free to the Chisholm Trail Heritage Center all day long from 10 am -5 pm.
Saturday is Family Day with kid friendly games and activities. Music, cowboy poets and the winners of Duncan Little Theatre's "We've Got Talent," The Wharton Sisters will be on the stage through out the day. The chuckwagons will serve lunch from 11 am to 1 pm. Meal tickets will be available for early purchase from the Center's gift shop or on the day of but be sure to get your fill of meat, potatoes, beans, bread and cobbler. Yum. Dont' miss out on the pony rides.
Both days will see traditional vendors doing demonstrations, with many of their wares available for purchase. Black smiths, leather toolers, basket weavers, rope makers and lace weavers will be happy to answer your questions about their crafts. There will also be demonstrations on metal detecting, woodworking and more. Vendors will leave at 6 pm both days and the Front Porch Weekend Winedown will be noon to 7 pm on the Saturday. Admission is free to the Chisholm Trail Heritage Center.
Head on over to The Simmons Center for The Chisholm Trail Arts Council's first concert of their live series, Bennie Wheels' "Johnny Cash." Box office opens at 6:30 pm, concert is at 7:30 pm. Bennie's portrayal of Johnny Cash is not to be missed. Tickets may be purchased at http://www.chisholmtrailarts.com or at the box office the night of the performance.
Make Duncan your destination this weekend for so much fun. For further information or for assistance with group tours, contact The Duncan Convention and Visitors Bureau at 1-800-782-7167 or http://www.duncanok.org or view http://www.duncancalendar.com.