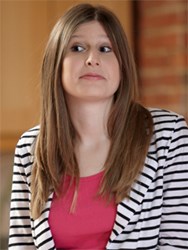 Cleveland, OH (PRWEB) September 11, 2013
Cleveland native, Kali Fencl, has joined Laugh Staff to add her own personal style to best man and maid of honor speeches.
Laugh Staff is pleased with the addition. Fencl has been methodical in her approach to comedy: she is a graduate of the Cleveland Improv Comedy Workshop and has taken classes at Second City in Chicago. She's also been spending time honing her improv skills with local improvisation troops.
While Fencl has extensive experience behind the scenes with booking comedians for The College of Wooster, she is also rising in the ranks of the Cleveland comedy scene. In the past year, Fencl has had the pleasure of performing in The Cleveland Comedy Festival, LaughFest in Michigan, and has surpassed the first round of the She-Devil Comedy Festival and will perform in the quarter-finals in October in New York City.
In addition to performing at festivals, Fencl has had the opportunity to perform at clubs like The Improv, Hilarities 4th Street Theatre, and the Funny Stop Comedy Club. She can also be seen hosting at the weekly Bon Bon Comedy Show in Ohio City along with local and national touring acts.
For more information about Laugh Staff, Inc., visit http://www.laughstaff.com, call 740-706-6690 or email info(at)laughstaff(dot)com.
About Laugh Staff, Inc:
Laugh Staff, Inc. was founded in 2012 by a team of comedians and writers in Cleveland, Ohio. Laugh Staff helps their clients with best man speeches as well as providing best man speech examples on their blog. They assist best men and maids of honor in speech-editing, speech writing, and provide training on speech delivery. Recognizing the importance of the big day, Laugh Staff's professional comedians work with best men and maids of honor to ensure they make a lasting impression.