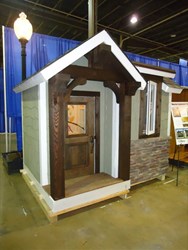 "The time and effort put into this playhouse...was worth it when we saw the recipient's beaming face!"
Charlotte, NC (PRWEB) September 13, 2013
Shea Custom (http://www.sheacustom.com) donated a children's playhouse for the NARI Parade of Playhomes competition in Charlotte, NC, which was showcased at the Southern Ideal Home Show in Charlotte from August 23 – 25, 2013. Shea Custom won two awards, "Best in Show" plus the "Children's Choice Award", and their playhouse was donated to a local child who is a cancer survivor.
Local builders and groups were invited to build and showcase their playhomes; a total of five playhomes were submitted. While on display at the Southern Ideal Home Show, children were invited to play on them and vote for their favorite; Shea Custom was awarded the "Children's Choice Award" by receiving almost 40% of the children's votes.
A young girl who was selected as the local Leukemia and Lymphoma's "2013 – Girl of the Year" award was arranged to be the celebrity children's choice judge of the competition. When she made her vote, she was told that the playhouse she chose, Shea Custom's Rustic Lookout Cabin, would be delivered to her home on Monday. It was an emotional moment for all present when she realized she was receiving this playhouse as a gift. The playhouse has been installed and her parents say she is enjoying it virtually every day. All other playhomes were auctioned off to the public, with proceeds going to a local charity.
Building the playhouse took two weeks; all materials and labor were provided voluntarily; Shea Custom's TradePartners pitched in their time and materials to make the playhouse come together just in time for the Home Show. Shea Custom's team dreamt up a "Rustic Lookout Cabin" design, with stonework, timber accents, shake siding, an interior ladder to a deck upstairs, with a rope ladder leading back down the back, and a bright, fun interior. A local faux painter brought the outdoors inside with a mural featuring trees and various friendly animals from nature.
Michele Scott, Vice President of Sales and Marketing for Shea Custom, commented, "We were excited about this project from the beginning. Being able to help a local charity has been rewarding for the Shea Custom team. Winning two awards was an added bonus and having our playhouse selected by the Leukemia and Lymphoma Society's '2013 - Girl of the Year' made our team proud. The time and effort that the Shea Custom team as well as our trade partners have invested was well worth it. It touched our hearts to hear about how excited the playhouse recipient was when she heard the news that the house was hers. She couldn't wait to get her new Shea playhouse home!"
For additional photos of this playhouse, please visit http://www.sheacustom.com.
ABOUT SHEA CUSTOM
Shea Custom is owned and operated by Shea Homes of the Carolinas, an independent member of the Shea family of companies. Shea Custom offers large home renovations in the greater Charlotte area, in addition to building custom homes on customers' homesites. All Shea Custom estimates are free and require no obligation from the customer. To find out more and to see Before and After photos of recent projects, visit http://www.sheacustom.com. Shea Custom offers affordable custom homes and renovations from a name people know and can trust.