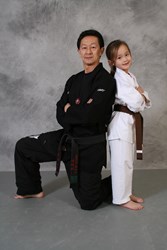 (PRWEB) September 10, 2013
Those in Cedarburg, WI and the surrounding area know that Chay's Tae Kwon Do has provided a positive outlet for youthful energy since 2002. Through a variety of children's Tae Kwon Do classes, geared towards all ages, Master Chay has expertly taught hundreds of kids the benefits of discipline, respect, focus, and fitness that come with Tae Kwon Do.
Both students and parents realize that there are numerous opportunities for growth at this Cedarburg Tae Kwon Do studio, as martial arts programs are offered for all age groups. For those from 4 – 6 years old, there is the Little Ninjas program, where the foundation of Tae Kwon Do is taught. Older beginners can start with either Chay's Children's Tae Kwon Do or the pre-teen and teen classes. Master Chay also provides personal training and adult Tae Kwon do as well as other fitness classes.
A very special event is set to take place on Saturday, September 21st, as Chay's Tae Kwon Do with host a "Back to School Party" open house. From 1 PM to 3 PM current students are encouraged to bring friends to Chay's, and have them experience a Tae Kwon Do class and sign up for classes this fall. This event will certainly showcase to prospective students the exceptional manner in which Chay's Tae Kwon Do promotes fitness and offers great children's activities in Cedarburg, WI.
Visit chayscedarburg.com or more information on Chay's Tae Kwon Do and the full schedule of martial arts classes in the Milwaukee area.