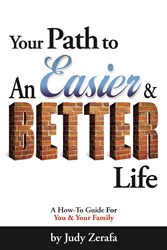 Denver, CO (PRWEB) September 11, 2013
A new book from this best-selling author and motivational speaker teaches readers seven keys that will help family members take responsibility for their own attitudes and take charge of their lives, while growing together as a family. The keys in this book were also recently piloted as a school curriculum that drove down school bullying and discipline rates while increasing parental involvement in the school and improving academic results.
In Your Path to An Easier & Better Life ($15.95, Go For It! Partners, October 2013) best-selling author, Judy Zerafa, taps her 30+ years as a motivational speaker, life coach, and educator to help families discover seven keys that will transform their lives and uplift their attitudes. This illuminating guide is distinctive from other motivational books in that it is designed specifically as an interactive, step-by-step program for families. Zerafa's book is unique in that she teaches not just the WHAT of success for families, but the HOW.
These keys, when implemented in schools directly, demonstrated results which combat the current rise in bullying and academic underachievement brought about by a number of societal factors including poverty and the overall decline of the family. The pilot curriculum, developed by Zerafa, is currently being implemented in eight Title I elementary schools in Casper, Wyoming. Since implementation two years ago, the pilot school has seen double-digit percentage declines in incidences of discipline as well as increases in improvement in grades and tests scores. Perhaps most importantly, increases in parental engagement were also seen.
Melissa Allen, a parent of one of the children participating in the Casper Project, said, "We always wanted to help our children do better in school and in life. We just didn't know how. The Seven Keys to Success explained in Your Path to An Easier & Better Life gives parents and families tools that help not just our children, but ourselves as well, in every part of life." Mari Stoll, a principal at one of the schools, explained, "In all of my career as an educator, I have been looking for a way to bridge the gap between parents and education and these keys are the first thing that I have seen successfully do that."
Zerafa's latest book provides seven keys which are explained in an interactive book for families with action steps to implement the keys which enable them to grow closer together as they work collectively. Within the book readers will find:

The seven keys clearly explained in easy-to-navigate chapters
Family activities at the end of each chapter to reinforce the principles
Inspirational stories by the author about people who have benefited from the keys
Habit cards to help the reader overcome self-defeating habits and create healthy ones
A concise dictionary of terms used in the book to reinforce understanding
Judy Zerafa is a best-selling author, motivational speaker and founder of the GO FOR IT! Institute. Her first book, Go For It!, was a bestseller for seven years on Publisher's Weekly. Over the past 35 years, Zerafa has focused her work on teaching others the Seven Keys to Success Life Program©. This program has been taught to corporate executives and management teams, government agencies, civic and professional groups. Zerafa is an international speaker who has reached over 400 audiences and has been extensively interviewed by media including the TODAY SHOW and The Washington Post. Her latest book, Your Path to An Easier & Better Life, is designed to teach the Seven Keys as a step-by-step process families and specifically children can use to improve their education, relationships, and jobs. The Keys from the book have also been implemented in partnership with the Go For It Institute, a non-profit foundation, as a curriculum designed for grades K-8.
Your Path to An Easier & Better Life ($15.95 by Go For It! Partners, ISBN 978-0-615-84816-7) is available on Amazon on October 1st or by visiting http://www.easierbetterlife.com.