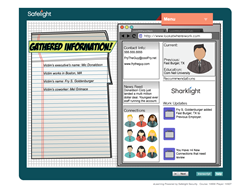 Using Safelight's Information Security & Privacy Awareness on-demand course, enterprises can train general staff on steps they can take to protect information in their everyday work
Providence, RI (PRWEB) September 12, 2013
Safelight Security, a leader in security education, is introducing its latest training course for enterprise staff, Information Security & Privacy Awareness, along with practical advice for training developers on application security in the software development lifecycle (SDLC) at HP Protect 2013, Booth #201, September 16-19, 2013 in Washington, DC.
Safelight Security's new Information Security and Privacy Awareness on-demand training features nine modules that help general staff, including human resources, legal, marketing, finance, sales, operations and customer service employees, easily understand the scope, nature and origins of the diverse risks to enterprise security. Each interactive module combines engaging instruction and interactive challenges to teach the proactive steps employees can take to protect information in their everyday work – from creating more secure passwords and recognizing malicious emails to preventing malware infection and fending off social engineering attacks. The courses include a series of communications materials, such as infographics, printable tips sheets and informative articles, which reinforce key course topics and continue to enhance students' learning.
"When your people are educated on how to protect important information on a daily basis, they can become your most valuable security asset," said David Whitlaw, vice president of global sales, Safelight Security. "The modules in our Information Security & Privacy Awareness course give enterprises a series of effective tools they can use to rapidly train all general staff on some of today's most pressing security threats."
In addition to a booth at HP Protect 2013, Safelight's Kevin Poniatowski, director of instructor-led training services, will present Application Security in the SDLC(Session #1308). Building on Safelight Security's decade-long expertise in training software development teams on secure application development methodologies, this session will teach developers the specific security tasks that must be included in each phase of the software development lifecycle to more effectively mitigate application security risks.
HP Protect 2013 conference participants can learn more about Safelight Security's entire portfolio of security education courses at the Safelight booth and also enter a drawing for a chance to win a $250 PGA Store gift card. Prior to the event, Safelight will be giving away a $50 PGA Store gift card to one of its Facebook fans or Twitter followers. To arrange a meeting with Safelight at HP Protect 2013, please visit http://www.safelightsecurity.com/hpprotect2013. Learn more about Safelight's on-demand and instructor-led courses for general staff, development teams and IT staff, by visiting the company's Education Programs page.
About Safelight Security
Safelight is a leader in security education—our integration of deep security expertise and innovative approaches to interactive learning sets us apart. We help organizations build comprehensive education programs that go beyond training to measurably shift the way employees think about the value of information and their role in protecting it. We offer a full range of instructor-led and on-demand courses for development, IT and general staff; each role-specific course is part of a larger program designed to cultivate a culture of security across the organization. Learn more at http://www.safelightsecurity.com.
# # #
Media Contact:
Kim Novino
knovino(at)safelightsecurity(dot)com
P: 508-695-9192