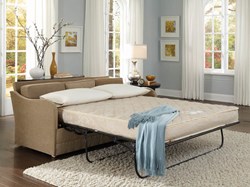 Simplicity Sofas furniture boldly goes where no furniture has gone before. - William Shatner (6/19/2013)
(PRWEB) September 11, 2013
Simplicity Sofas has developed a revolutionary new patented sofa bed designed to fit through extremely narrow entranceways such as RV and camper doorways where normal sleep sofas cannot go.
The new sofa beds are on display at the Hershey, Pennsylvania RV show.
Using a hybrid Air Dream air and foam mattress, these Made in America sofa beds fit through stairs and doorways as narrow as 16 inches (less than half the width of a standard door.) Assembly takes only ten minutes.
These new sofa beds were designed in response to multiple customer requests for a high quality, super comfortable sofa sleeper that could be brought in through the narrow doorway of an RV or camper.
The sleepers will also fit through boat hatchways and in apartments and older homes with narrow stairs or doorways.
The Sofa Beds are shipped in three boxes. There is a base which houses the sleeper mechanism and mattress. The back of the sofa is attached to the base by a hinge and folds flat for shipping. The arms and cushions are shipped in separate boxes.
The formal introduction of the new sofa sleepers is being made September 11, 2013 at the Hershey, Pennsylvania RV show where Simplicity Sofas will be demonstrating the simple 10 minute assembly procedure and the amazing comfort of the Air Dream hybrid air/foam mattress.
The sofa beds are priced from $1999 to $2499 depending on fabric and options. "That may seem expensive to some folks," Simplicity Sofas owner Jeff Frank said, "but we have included a world-class mechanism and mattress."
Mr. Frank also pointed out, "RV enthusiasts needed a high quality sofa bed that would fit through that narrow doorway. So we invented one."
Simplicity Sofas is a High Point, North Carolina furniture manufacturer and e-commerce retailer specializing exclusively in high quality quick assembly furniture for small spaces and narrow entranceways. The company also offers a large selection of hard-to-find mid- and small-size sofas, sectionals and sleepers.
Simplicity Sofas furniture is custom-made in 30 days in a choice of more than 200 fabrics, multiple cushion selections and other options. The company ships nationwide and to Canada. More information about the company and products can be obtained by calling 800-813-2889.