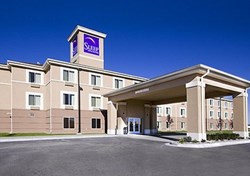 "We work with our partners to bring about maximum client satisfaction."
Idaho Falls, ID (PRWEB) September 18, 2013
Greenbee Parking (http://www.greenbeeparking.com), a growing airport parking service, has just announced their partnership with Sleep Inn & Suites in Idaho Falls. This strategic partnership will allow Greenbee to offer yet another secure parking option for their customers who are frequently using the Idaho Falls (IDA) airport for their travels. It is particularly helpful for long-term customers who prefer locations at a distance from the airport rush so that they don't have to worry about the safety of their vehicles which are usually parked there for days. It also helps them save a bundle because Greenbee Parking offers these services at very affordable Idaho Falls Regional Airport parking rates which are way less than what they would have otherwise paid with the regular options. What's noteworthy here is that Greenbee even has special offers for customers who want to park their cars for shorter durations or for a day and still get great discounts. All they have to do is park their cars at the hotel lot and get transported to the airport by availing the shuttle service. In addition, there is no need to book a room at the hotel when reserving through Greenbee.
"We work with our partners to bring about maximum client satisfaction," said Christine Cooper – Marketing Coordinator, Greenbee Parking. "Our partnership with Sleep Inn & Suites at Idaho Falls will make sure that there are always safer and affordable options for our customers in Idaho Falls, even if they book in the last minute. We are committed to ensure the best of services at the cheapest Idaho Falls Regional Airport parking rates at all times."
Idaho Falls Regional Airport Parking Information
Idaho Falls Regional Airport (IDA) is a public airport located strategically close to the central business district of Idaho Falls. Along with the state of Idaho it also serves the regions of Western Wyoming and Southern Montana. It connects with major US cities like Denver, Phoenix, Reno, Salt Lake City and Las Vegas on a weekly basis. For a small and regional airport it sees quite a bit of passenger traffic which means there is a considerable stretch on its resources like the limited airport parking. It has been a major bone of contention for travelers using the airport who have been requesting the authorities to come up with a solution. Now, with the advent of Greenbee Parking there are easy parking solutions for all. With new partnerships like the one with Sleep Inn & Suites at Idaho Falls, Greenbee Parking has increased the options for their customers without increasing the Idaho Falls Regional Airport parking rates, a news which has been well-received by all travelers here.
The Greenbee Airport Parking Solution
Greenbeeparking.com is the connection between consumers and parking vacancies in close proximity to major airports and seaports. The parking spaces are very affordable because the company has negotiated discounted rates with major hotel chains for the parking spaces that are not currently occupied. Here's how it works.
Greenbee Parking puts the available inventory of parking spaces on their website to be reserved by business and leisure travelers looking for cheap airport parking. This alternative method for finding parking equates to significant savings for the traveler. These savings are sometimes as much as 75% less than parking at the airport or seaport.
About Greenbee Parking
Greenbee Parking is the nation's most innovative long term parking company, with a new way of making long-term parking affordable. The company is rapidly adding new airports to its network.