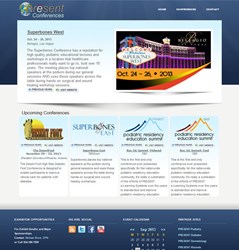 "The New
PRESENT All-Conference Website serves as a one-stop easy to use website where past and future attendees alike can learn about our conferences." Alan Sherman, DPM, CCMEP, PRESENT CEO and Co-Founder
Boca Raton, Florida (PRWEB) September 16, 2013
PRESENT e-Learning Systems, a world leader in the field of online medical education, and purveyor of cutting-edge podiatric conferences, announces the launch of their new All-Conference Website –http://www.PresentConferences.com.
In response to member's request, PRESENT now has a single website consolidating information on its 5 annual conferences, including links to upcoming conferences and archives of past-conference agendas, photo albums, faculty lists, exhibitors and contest winners.
PRESENT CEO and Co-Founder, Alan Sherman, DPM, CCMEP, states, "The New All-Conference Website serves as a one-stop easy to use website where past and future attendees alike can learn about our conferences." He adds, "While the individual, standalone conference websites are all still in place, the attendees and registrants can now visit this one site as an originating portal and historical archive of all PRESENT Conferences.
PRESENT's Conference Suite consists of five annual conferences including:

Superbones Conferences East and West, high end surgical continuing medical education
events;
Podiatric Residency Education Summits East and Midwest, the only conferences designed
especially for the podiatric residency education community;
Desert Foot Conference, the foremost high risk diabetic foot conference, honoring our
Federal Services healthcare professionals.
To learn more about these meetings visit the NEW PresentConferences.com.