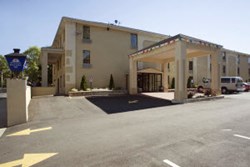 "Our focus is to provide the best of service and offer complete customer satisfaction."
Newark, NJ (PRWEB) September 20, 2013
Greenbee Parking (http://www.greenbeeparking.com), a young airport parking solutions firm, has come out as one of the clear winners in the latest Newark Airport parking reviews. For a busy airport like Newark it is not surprising that parking has been a major challenge all these years. Greenbee Parking has boldly stepped in, not only to offer multiple options for travelers but also offer them at very affordable rates which are much lower than the usual steep prices that they have had to pay so long. With more and more travelers opting for Greenbee services it is evident that the young company is all set to make waves in the industry. Most of their customer base has developed through word of mouth publicity and through repeat clients. It is not just the excellent savings options that they provide but also their fantastic customer support team which is ready to help 24x7x365. They have completely redefined the airport parking experience with their super easy online booking options, open communications and easy availability of secure space no matter when the booking is done.
"Our focus is to provide the best of service and offer complete customer satisfaction," said Christine Cooper – Marketing Coordinator, Greenbee Parking. "We want all our customers to feel special and enable them to find easy parking and save bundles at the same time. The Newark Airport parking reviews show that our efforts have been appreciated and given us further impetus to come up with more options in future."
Newark Liberty International Airport Parking Information
Newark Liberty International Airport is one of the oldest airfields in the country and also the base for the first commercial airline terminal. The Newark (EWR) airport is located strategically close to Manhattan, prime business districts of New Jersey. It therefore serves as a second airport for a large volume of the New York bound passengers as well as for tourists who want easy access to the scenic hot spots in these two regions. It is one of the busiest airports in the country with over 34 million passenger footfalls recorded in 2012. It is also a major freight hub with United Airlines and FedEx Express transferring volumes in and out of here. It is no wonder that ground traffic in and around the airport is also heavy leading to a huge demand for parking. Since space is at a premium parking rates here have also been high. But now with Greenbee Parking in the scene such woes are things of past. The company has come up with innovative parking options which offer the best services at the most affordable prices, making them instant favorites for customers who revealed as much in the latest Newark Airport parking reviews (http://www.greenbeeparking.com/NEW_JERSEY/EWR/Reviews-of-EWR/page.html).
The Greenbee Airport Parking Solution
Greenbee Parking has effectively bridged the gap between parking problems and solutions at both airports and major seaports. They have tied up with major hotels for available parking spaces at discounted rates which they offer their customers across the nation who can now save up to 75% of their parking costs.
All they need to do is visit Greenbeeparking, select their city or airport of choice, choose the parking spot and pay through a secured payment gateway. There is a comprehensive list of airports and parking spots to choose from. Greenbee's wide network makes it possible for every customer who logs in to find a solution.
About Greenbee Parking
Greenbee Parking is the nation's most innovative long term parking company, with a new way of making long term parking affordable. The company is rapidly adding new airports to its network.