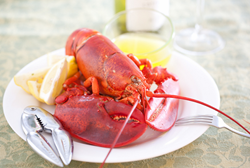 ...the longest distance to date that GetMaineLobster.com has shipped its live Maine lobsters is 5,146 miles in less than 24 hours!
(PRWEB) September 12, 2013
In a recent New York Times article titled "The Time is Right for Lobster" by David Tanis, the author explains how affordable Maine lobster has become in recent months. Tanis exclaims that now is the time to indulge in lobster as the seafood delicacy continues to come down in price. "What do you do when a luxury item like lobster becomes so plentiful that the usual high price comes down?" asks Tanis. "You eat more lobster." And the team at GetMaineLobster.com could not agree more.
Founded in 2010 by Mark Murrell, a Maine native and lobster enthusiast, the goal at GetMaineLobster.com has always been to give anyone within the continental United States the opportunity to enjoy Maine lobster and the experiences that come with cooking and eating it with family and friends.
GetMaineLobster.com takes advantage of the falling lobster prices by offering weekly specials to seafood lovers. This week, for example, at only $159.00, a discount of $180.00 off of the standard price, Get Maine Lobster will deliver 12 one- to 1.25-pound live Maine lobsters fresh from the cold waters of the North Atlantic. As GetMaineLobster.com also specializes in prepared seafood meals, also being offered is a Maine Lobster Dinner for Six for just $155.00, a savings of 50 percent. This package includes six live Maine lobsters, six jumbo Maine crab cakes and four pounds of fresh Maine mussels.
In order to provide next-day service of live Maine lobsters and other seafood favorites, the team at GetMaineLobster.com works closely with its lobstermen and lobsterwomen to ensure that only the freshest and healthiest Maine lobsters are selected. In an effort to contribute to the sustainability of the Maine lobster industry, 25 perfect of the lobsters caught are released back into the cold waters of the North Atlantic. Those lobsters that make the cut are then directly shipped from dock to doorstep in environmentally friendly packing. The trusted Maine lobster delivery service enlists the help of FedEx and Periship, experts in the logistics of shipping perishable foods, to monitor and execute on any issues that may delay the delivery of the live Maine lobsters. In fact, the longest distance to date that GetMaineLobster.com has shipped its live Maine lobsters is 5,146 miles in less than 24 hours!
To learn more about GetMaineLobster.com, browse its wide range of seafood offerings, and to access other healthy lobster recipes or view current specials, visit GetMaineLobster.com or call (866) 562-4817. Stay updated and Like us at facebook.com/getmainelobster or follow us at twitter.com/getmainelobster. For even more lobster news and recipes go to JustAddLobster.com.
About GetMaineLobster.com
GetMaineLobster.com, a division of Black Point Seafood and Black Point Gourmet, hand-selects the finest Maine lobster, seafood and beef products for convenient distribution throughout the United States. Their passion is to make fresh, quality seafood readily available to customers across the country, which is why they buy from only the most trusted, well-established suppliers to ensure that they receive the finest products available.
GetMaineLobster.com was selected out of the more than four million small American businesses served by Chase bank to represent its new Platinum Business Checking product for its 2013 national advertising campaign.