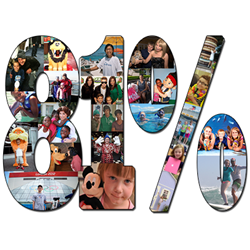 The Children's Dream Fund is not only effective in terms of making the dreams happen, but we are efficient with the funds our donors entrust to us. Over 81 cents of every dollar goes directly to dreams.
Tampa, FL (PRWEB) September 10, 2013
The Children's Dream Fund has a reason to celebrate! Tampa Bay's local, independent wish granting organization, based in Tampa Bay, stands out as a model of efficiency. According to their most recent 990 tax return the Children's Dream Fund's ratio of program expenses to total expenses was 81.23%.* For the past 3 years, The Children's Dream Fund has maintained 80% or better.** A ratio of 65% is considered good by watchdog groups.*** The charity creates wonderful dreams for children ages 3-18 in West Central Florida who have been diagnosed with a life-threatening illness.
Cynthia Lake, Executive Director stated, "The Children's Dream Fund is not only effective in terms of making the dreams happen, but we are efficient with the funds our donors entrust to us. Over 81 cents of every dollar goes directly to dreams. Running an ethically sound organization is of utmost importance to us. We want our donors to know that their funds are being used as intended – to help make dreams come true for some very special, very sick children. "
The Children's Dream Fund does not use telemarketers or phone solicitation of any kind. They have been awarded a 3-Star rating by Charity Navigator, and all funds raised stay in the communities they serve. The organization strictly adheres to the Association of Fundraising Professional's Donor Bill of Rights, and maintains highly ethical fundraising practices.
The Children's Dream Fund continues to provide services to a high volume of seriously ill children. In 2012 alone, with a small staff and some key volunteers, they made dreams come true for 104 children living in 22 counties in West Central Florida. Dreams range from trips, to computers and other tangible items, as well as meetings with celebrities, cruises and once-in-a-lifetime experiences, such as watching a favorite team win the Super Bowl. 2013 has proven no less challenging, and rewarding. Since 1981, the organization has helped over 2,000 children.
"Serving on the board of directors has been an eye-opening experience," said Kevin Marshall, President of Marshall Advertising. "The level of professionalism and dedication by the Children's Dream Fund staff to ensure every possible dollar is spent granting kids' dreams is truly a phenomenal achievement…and a lot of hard work!"
In an effort to spread the word pertaining to The Children's Dream Fund's consistent performance, Marshall Advertising and 21 Digital created a multi-faceted campaign encompassing social media, e-blasts and other components. The main crux of the campaign is the significance of 81%, along with several other important points, while highlighting the many children, volunteers, staffers, sponsors and companies that are part of The Children's Dream Fund's success.
Sources:
*The Children's Dream Fund 990 Tax Return Form 2013
**The Children's Dream Fund 990 Tax Return Forms 2011, 2012 and 2013
*** Tampa Bay Times June 6, 2013 article "How We Identified America's 50 Worst Charities" (http://www.tampabay.com/news/business/how-we-identified-americas-50-worst-charities/2124085)
About The Children's Dream Fund
The charity was created in 1981 to serve the West Central Florida area. A voluntary Board of Directors oversees the finances and promotes the organization. They receive financial support from the community through individual and corporate donations, memorial gifts, direct mail, workplace giving, grants and special events. CDF's sole objective is to fulfill the wishes of qualified children, referred to them by area hospitals.
About Marshall Advertising
Established in 1994, Marshall Advertising goes beyond the norm in delivering results worth talking about for their clients. The agency specializes in media buying and handles traditional and non-traditional advertising, while offering a variety of media marketing services. Other Marshall clients include WFLA-TV, State Farm, Kane's Furniture, Suncoast Schools Federal Credit Union, Amalie Motor Oil and the Tampa Tribune. Marshall Advertising is headquartered in Tampa, FL with offices in Los Angeles, CA, Washington, DC and Columbus, OH. For more information visit MarshallAdvertising.com.
About 21Digital
21 Digital was created to serve the growing need for businesses of all sizes to plan and execute effective and efficient online campaigns – whether it is through their Social Media Management Service, Paid Search or more "traditional" multi-screen opportunities such as banner ads, mobile, text and partnering with other sites to create meaningful digital promotions. 21Digital is based out of Tampa, Florida and has an office in Los Angeles, California as well.
For additional details please contact CDF Board Member, Kevin Marshall at 813/254-8300 or Cynthia Lake, Children's Dream Fund Executive Director at 727/896-6390.