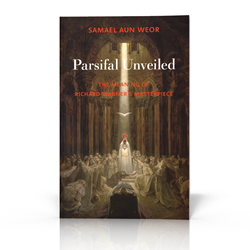 'Art can show that the symbols which religions would have us believe literally true are actually figurative. Art can idealize those symbols, and so reveal the profound truths they contain.' - Richard Wagner
New York, NY (PRWEB) September 12, 2013
"Parsifal," the epic, final opera by Richard Wagner, stunned audiences and set the stage for the arrival of the First World War.
"The year 1914 will always be a memorable date among the remarkable dates of this humanity, because of the explosion of the First World War and the simultaneous debut of Parsifal in all the civilized world." - Samael Aun Weor
Originally restricted to performances in Germany from 1882 to 1914 and treated as a "religious experience" by audiences, Parsifal remains one of the most performed and most controversial dramatic works in the world. Not only moving the world's top composers and writers to tears and inspiring generations of creative geniuses, "Parsifal" was also admired by Adolf Hitler, and yet, few could agree on how to interpret the meaning of the opera.
On the surface, "Parsifal" is Wagner's retelling of the myth of the Holy Grail and the knights who protect it, but its layered symbols, Christian theme, and sexual tensions have evaded public understanding. Wagner said:
"When religion becomes artificial, art has a duty to rescue it. Art can show that the symbols which religions would have us believe literally true are actually figurative. Art can idealize those symbols, and so reveal the profound truths they contain." - Richard Wagner
Wagner himself never explained "Parsifal," and in his wake thousands of writers, critics, and artists have attempted to penetrate its mysteries yet have failed, since they were not initiated into the secret tradition it came from. Finally, in the book Parsifal Unveiled by Samael Aun Weor, the meaning of "Parsifal" is fully revealed, and the genius and spiritual accomplishments of Richard Wagner are made radiantly clear.
Glorian Publishing, a non-profit organization, is pleased to announce that Parsifal Unveiled, by one of the world's most prolific authors, is now available for preorder in paperback for $18.95. The ebook edition, fully illustrated in color, is coming soon.
Samael Aun Weor (a Hebrew name) remains largely unknown in the English-speaking world. But in his native Latin America, he is known internationally as the author of over seventy books about the fundamental root knowledge from which all our most important philosophical, scientific, and religious traditions blossomed.