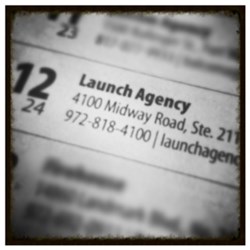 Dallas, TX (PRWEB) September 11, 2013
The Agency Post recognized Launch in their national 2013 compilation of 100 fastest growing agencies. Listed at 82, Launch was on the short list of agencies that The Agency Post considered to have "demonstrated fortitude, strong relationships, great work and strategic ideas" while maintaining a strong business structure that would ensure growth and financial stability.
The Dallas Business Journal included Launch in their annual list of Largest North Texas Advertising Agencies both based on capitalized billings, and by employee size. Launch was ranked 11th in capitalized billings and 12th in number of employees for area advertising agencies.
Launch Agency is a full-service advertising agency based in the Dallas/Fort Worth area founded in 2003. They are nationally recognized for award-winning creative work, and for competitively positioning and marketing both fast-growth and mature companies. For more information, visit http://www.launchagency.com.