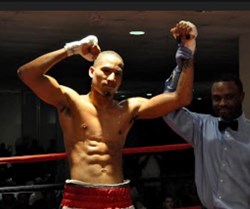 Fort Washington, MD (PRWEB) September 11, 2013
Team Lloyd Irvin recently revamped and integrated a high level boxing program to add to their already successful Brazilian Jiu Jitsu and MMA programs. The head coach of the new boxing program is Maryland's own Troy Fox. His sons, Alantez and Myke, assist him in his coaching of the members of Team Lloyd Irvin. But when the Fox family isn't coaching, they are preparing for their own fights.
On September 7, 2013, Troy's eldest son, Alatez "Slyaza" Fox improved his pro boxing record to 12-0-1 with a unanimous decision win over Zain Shah (5-2-0) at the Keystone Boxing promotion at Rosecroft Raceway in Ft. Washington, MD.
Shah was the favored fighter as many thought his right hand would be too much for the young Alantez Fox. Fox proved otherwise, out-jabbing and out-boxing Shah through all six rounds.
Says Fox:
"Going into the camp for the fight the main objective was to nullify Zain Shah's right hand because I kept hearing from others that that was his main weapon. Coming into the fight I looked at him and just determined that he might be too slow to keep up with my speed and footwork. So I started off jabbing and the jab immediately busted his nose and was landing flush. The fight was pretty much that. I figured if he can't get past my jab I wouldn't go on further and give anything else. I knew to keep moving and my father reiterated it between each round. Making sure he wouldn't catch me with a lucky shot was really the biggest thing to me. I heard the crowd cheering and wanting more but I just played it safe and cool."
Alantez Fox is 21 years old and has been boxing with his father since he was 13. The family affiliated with Team Lloyd Irvin almost two years ago. The next fight for Slyaza Fox will be October 18, 2013 right back at Rosecroft Raceway under the Keystone Boxing promotion.
Fox's dream come true would be to be Mayweathers 60th fight.
For more information on the Team Lloyd Irvin boxing program, please visit http://www.lloydirvinlive.com or call 301-449-KICK. There is a 30 day free trial offer for all new students.