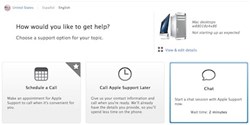 Don't Do Business Online Without Chat
Aventura, FL (PRWEB) September 11, 2013
Providing live chat support is very important for the success of any business. The customers should be provided with a way through which they can reach out to the business and get answers to all their questions and queries. They should also get clarifications about the products and services that the business has to offer. Thus, providing chat support in a website is important as it can create a connection between the business and the prospective clients.
According to an article released by VR-Zone on August 27, 2013 5:24 pm, written by Abhijeet Mishra, Apple Inc.recently added a live chat customer engagement tool to their support page. The addition makes it easier for their customers to get the help they are searching for. You can now get help 24 hours a day by going to their website. All you have to do is go to their Apple Care Support page and click on the chat icon. The only pitfall is that, its only for Itunes and a couple other sections of the site. Also, you may have to wait up to 2 minutes before you receive help. But I am sure visitors will love surfing the net while they wait. No more listening to boring elevator music while on hold.
A ValueChat executive said "Apple was smart for adding Live Chat to their website. They are one of the biggest Tech companies in the market; they have to ensure their customers stay satisfied. Live Chat is the best way for you to quickly resolve your customers issues Now that Apple is using chat, more companies will follow."
The service is not only beneficial for customer communication take advantage of all these other added benefits as well. Reduce website abandonment and bounce rate. Greet visitors soon as they land on the site and send them in the right direction with a link when problems arise. Chatting with customers can also help increase conversion rates. The chat history is useful information that can be used at a later time to get a better understanding of customers are looking for, what problems they have with the companies products, services, and site navigation.
No More Wait Time
If Apple really wanted, they could provide an added bonus by offering dual support. Instead of having a 2-minute wait time like they do now. They could allow the chat to respond instantly and have live reps assist when needed. Now customers receive the instant gratification they are looking for.
Increasing Sales
Check back at a later date to try and get some insight from Apple, but all of these benefits have been know to improve the most important aspect of business, sales. Every business has one goal, increase sales to make more money. Obviously Live Chat isn't going to multiply your sales by 20, but even Apple knows the importance of having great support.
About ValueChat
ValueChat provides live chat software plus a programmable chat response system that can be trained to respond to all the questions visitors might have when your live reps are not available. If there is ever a question that could not be answered, you simply train the PCR to answer the question next time. Don't worry if the question can't be answered, the programmable chat will alert the live rep and send an email so you can follow up later.