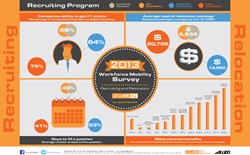 (PRWEB) September 11, 2013
Allied Van Lines Inc., one of the world's largest moving companies and a subsidiary of SIRVA Worldwide Inc., announced findings of its second installment of its Allied HR IQ 2013 Workforce Mobility Survey. Research by Allied HR IQ showcases trends and insights into mobility issues facing human resource professionals today.
According to the newly released "Recruiting and Relocation" section of the 2013 Allied Workforce Mobility Survey, human resource professionals in general (57%) do not think the current mobility environment is having an effect on recruiting and hiring. However, for the 18% who see it having a negative effect, it has impacted their efforts in the following ways:

Inability to secure their first candidate of choice.
Searching more locally than nationally for new hires.
Extending recruiting lead times to secure a new hire.
As it relates to recruiting effectiveness, the research showed that companies with highly successful recruitment programs not only secures their primary recruit 79% of the time and takes the least amount of time (41 days), but in the end spends the least amount to do it ($3950) versus those companies who aren't as successful.
In addition, recruiters still feel that employees referrals are the best way to get new hires (26%), followed by college university programs (17%) and career websites (16%). And while recruiters are slow to embrace social media, they are seeing some great success using platforms such as LinkedIn to help mention positions and to advertise positions.
Finally, while moving (70%) and temporary living expenses (57%) continue to be the most popular elements for relocation packages, recruiting professionals indicate other barriers aren't address in most packages including:
Dealing with a spouse employment situation.
The potential monetary loss when selling their home.
Information about the children's future schooling
If companies could better address or support these concerns in their relocation packages, they may find a higher success rate with their recruits.
For more information and downloadable infographic related to our telecommuting results as well as our 2012 Allied Mobility Survey, please visit our website at http://www.AlliedHRIQ.com.
About Allied Van Lines
Established in 1928, Allied Van Lines, with more than 400 agent locations in North America, is an experienced leader in household goods moving and specialized transportation services. Allied is one of the world's largest moving companies and one of the established global brands of SIRVA, Inc., a leader in providing relocation services to corporations, consumers and governments around the world. For more information about Allied Van Lines, visit http://www.allied.com. Allied Van Lines, Inc., U.S. DOT No. 076235
About SIRVA Wordwide, Inc.
A leading worldwide provider of relocation and moving solutions, SIRVA Worldwide, Inc. (http://www.sirva.com) provides more than 230,000 relocations per year to corporations, government employees, and individual consumers through its family of companies. The Company delivers the best mobility experience at the lowest total cost to relocate through complete management of the global supply chain, the world's leading global operations, industry-leading risk management processes, and full accountability and transparency of costs. SIRVA's family of companies includes Allied, Allied International, Allied Pickfords, DJK Residential, Global, northAmerican, northAmerican International, SIRVA Mortgage, SIRVA Relocation, SIRVA Move Management, SIRVA Global Relocation and SIRVA Settlement.