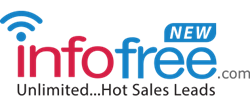 We are CRM-neutral; we work with all CRMs, big and small. - Rakesh Gupta, President and COO of infofree.com
San Mateo, CA (PRWEB) September 30, 2013
infofree.com, home of unlimited sales leads and mailing lists for $49.95 per month, is making it easy for users to manage the millions of sales leads available at their fingertips. A free customer relationship management (CRM) tool is in development and expected to launch later this year, but in the meantime infofree.com subscribers can use any third-party CRM to organize their sales leads.
Conveniently, infofree.com data is compatible with all CRM platforms, including Oracle, Salesforce.com, Microsoft Dynamics, Nutshell, Goldmine, Sage ACT!, Highrise, Zoho, NetSuite, SAP, Constant Contact, RightNow Technologies, Responsys, Vertical Response and Dun & Bradstreet.
"We invite users to make the most of our sales leads by exporting them to a CRM where they can be easily organized to keep track of current customers and prospects," said Rakesh Gupta, infofree.com President and COO. "We are CRM-neutral; we work with all CRMs, big and small. And for customers who don't have one, infofree.com is building a CRM that will be launched by the end of the year."
When completed, infofree.com's in-house CRM will make the company a one-stop shop for users to search, download and manage the industry's hottest, most affordable sales leads program. An Inc. 500 company, infofree.com is revolutionizing the sales leads industry by providing unlimited access to 300 million consumer and business records for the low price of $49.95 a month.
"The infofree.com contact manager will be another step toward the goal of helping our users increase their sales productivity and grow their businesses," Gupta said. "At the click of a mouse, they will be able to monitor sales activities, view leads on a map and track appointments and tasks for individual accounts."
About: infofree.com is revolutionizing the sales lead and mailing list industries by providing unprecedented search, view and download of low‐cost marketing information enabling sales professionals and small businesses to target new customers and increase their sales productivity. Named to the Inc. 500 list of fastest-growing U.S. companies, infofree.com offers 300 million business and consumer listings and more than 200 specialized databases.