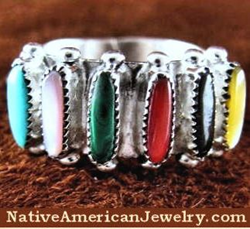 As the air gets colder and the seasons and leaves begin to change, our style and fashion changes along with it.
(PRWEB) September 10, 2013
Temperatures across the United States are dropping and the summer months are now in the rear-view mirror. As the air gets colder and the seasons and leaves begin to change, our fashion and style changes along with it.
Now, an online leader in Native American jewelry and art has unveiled a special new collection targeted at fall fashion.
"We have a beautiful new selection of pieces just in time for the fall," said NativeAmericanJewelry.com spokesperson Steven Onida. "The warm silver and turquoise hues featured in these pieces are the perfect complement to brisk autumn evenings."
Some of the items in the special new collection include turquoise rings, bracelets, necklaces and earrings. Visitors can also browse through the site's vast collection of belt buckles, bolo ties, watches, key chains and money clips. Visitors can also rest assured that the authenticity of each piece of art or jewelry featured on the site is guaranteed.
"Each item in our collection is meticulously handcrafted," said Onida. "The rising popularity of Native American art and jewelry is due in part to the fact that it is also a vital part of American history."
The site offers customers one-of-a-kind jewelry at dramatically reduced prices. New visitors to NativeAmericanJewelry.com are encouraged to sign up for the site's email list. Visitors will receive an instant 10% off coupon code by signing up. They will also receive access to exclusive and special deals on new styles of handcrafted Native American jewelry. In addition, all items purchased on NativeAmericanJewelry.com will be shipped to addresses in the United States for free.
To browse the latest in traditional and authentic Native American art and jewelry, please visit NativeAmericanJewelry.com today.