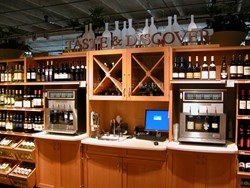 Thanks to on-premise wines-by-the-glass programs, consumers are getting more experimental with wine and looking to retailers to help them learn about and discover new varietals.
Campbell, CA (PRWEB) September 12, 2013
Napa Technology, manufacturer of WineStation®, released key findings from its recent retail survey during a thought-provoking Trends in the Aisle webinar centered on wine trends in retail settings. Napa Technology's survey targeted leaders in grocery and retail wine stores to explore the correlation between wine sampling and its impact on sales and customer loyalty.
Ed Cook, Director Beer & Wine, Harris Teeter; Jack Robertiello, Writer, Consultant, Wine & Spirits Judge; and Jayne Portnoy, Vice President of Marketing & Brand Strategy, Napa Technology participated in the Trends in the Aisle webinar that covered the evolution of retail wine sales, key findings from the survey, and insights and best practices.
Retailers recognize that wine is a large and growing category. According to Impact Databank, Americans consumed 324 million cases of wine in 2012, a 7.7% increase over five years ago. That number is expected to grow in the next five years as consumers continue to sample and learn about wine as a food-friendly beverage appropriate for everyday occasions.
"Today's restaurant guests are taking small but regular risks with by-the-glass wine choices when dining out, which gives them more confidence to explore in off-premise settings," noted Jack Robertiello. "This makes the relationship between on- and off-premise sales competitive, but also supportive, if each location is ready to provide the expected experience that includes an opportunity to sample."
Napa Technology's survey confirmed that sampling is key to engaging customers in a way that leads to increased sales, with 30% of respondents sampling daily. Napa Technology reports a 68% growth in retail installations of the WineStation since 2011, including Harris Teeter's 201central stores and others using technology to help satisfy consumer demand for more services from wine departments. Retailers with the highest return on wine sales cited coupling sampling with an educated sales force.
Ed Cook shared that 65% of sampling events at Harris Teeter are related to seasonal promotions and 35% to new brand launches. "The biggest change at our stores is the blurring line of categories. Organization of wine is less about appellation and more about the varietal and flavor profile, which helps customers learn how to select the wine that's right for them."
To be competitive retailers need to invest in a broad selection of wine at a variety of price points. More than half of survey respondents reported the $11-$20 range the most popular, but all ranges were active with sampling acting as the tipping point. Panelists agreed that customers are willing to splurge if they can taste before they buy. Making the connection with customers in a setting that makes it easy and enjoyable to shop, by staffing with knowledgeable and passionate people, and by providing service and self-service sampling has long-term impact on repeat purchases.
Today's technology is catching up with the wave of demand by providing tools for retailers to sample wine and to better manage the wine department. "Napa Technology's retail customers report a 60% increase in case movement when wines are sampled and have found that automated wine sampling reduces overall operational costs with anytime access to wine sampling," said Jayne Portnoy. "In addition, WineStation is the only enterprise platform system in the world that leverages engineering expertise and industry insights to offer real-time, meaningful data while connecting with customers in a significant way."
Napa Technology provides free access to the webinar, Trends in the Aisles, Wine Sampling in Grocery and Retail Environments at: napatechnology.com/webinars/ For more information about the WineStation, visit napatechnology.com.
About Napa Technology
Napa Technology, LLC is a designer and manufacturer of Intelligent Dispensing Solutions for wine that ensures optimum freshness with each pour. The company's breakthrough product, WineStation®, maximizes the profitability of each bottle. First introduced in 2005, the WineStation now pours nearly 3 million ounces of wine per month from its systems serving grocery stores, retailers, restaurants, hotels, cruise ships, arenas and wine bars worldwide. For more information about Napa Technology and the WineStation, visit http://www.napatechnology.com.