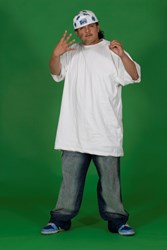 Orlando, FL (PRWEB) September 10, 2013
Coast 2 Coast Mixtapes announce the release of the "To The T.O.P." Single by Kalico Fortycal. This single is presented by Coast 2 Coast Mixtapes and is currently available for download. The single was produced by Pauly Rival, engineered by Paul Lapinsky, and features NATO.
Kalico Fortycal is a rapper born in West Covina, CA who primarily grew up in Orlando, FL. Kalico started creating music using the tools originally used to create the first Hip Hop tracks; his turntables, a mixer, and a tape deck. It was not until Kalico moved to Clay County, FL where he honed his rhyme skills. Later Kalico formed the 40 Movement with a group of friends but after creating 100 songs, being involved in a wild west gun battle, 3 police raids, and serving time for conspiracy to traffic; Kalico realized he needed to get out of Florida. Now back in California, Kalico runs a series of Medical Marijuana Doctors offices and is CEO and CFO of KNS Outsource, a leading BPO company and successful collection firm. With his new found financial freedom, Kalico is back focusing his time and effort on his music career in a big way.
"To The T.O.P." is Kalico Fortycal's first single back in the game and is as relevant now as it was when he originally recorded it back in 2010. The single was produced by Pauly Rival and engineered by Paul Lapinsky, who has engineered songs for Ludacris, Alicia Keys, and Red Jumpsuit Apparatus. The song is all about the struggle of the hustle, originally written when Kalico was heavily involved in major street activity. With a killer hook and a positive twist the theme focuses on Kalico's perseverance, never allowing anyone or anything stand in the way of his success. "To The T.O.P." provides a feel good vibe on top of a hard hitting beat. The hook is clean and catchy contrasting with the southern style verses by Kalico and featured verse by NATO. If you are looking to for a well produced single with a strong positive message, this is the single for you. For more on Kalico Fortycal, check him out on Facebook.
About Coast 2 Coast Mixtapes
Coast 2 Coast Mixtapes are the most widely distributed mixtapes in the world, with over 100 million downloads/plays generated by over 200 volumes officially hosted by major artists. Coast 2 Coast has a solid reach in the new music industry with a digital magazine, DJ coalition, industry tips blog, yearly convention, and more. Coast 2 Coast Mixtapes represents a unique opportunity for artists of all urban genres, from major to indie. For more information, visit http://www.coast2coastmixtapes.com.