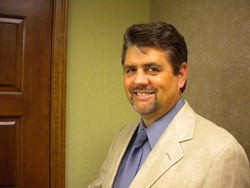 San Diego, California (PRWEB) September 10, 2013
Working with thousands of the top dentists in the country as an oral appliance expert and President of Gergen's Orthodontic Lab and Pro Player Health Alliance (PPHA), David Gergen has taken his knowledge and expertise to the sleep industry and has overwhelmingly conquered the competition; being sleep apnea. There's no question why he chose to team up with Dr. Brad Eli in southern California to tackle sleep apnea.
As one of the country's most experienced and well-known doctors, Dr. Bradley Eli provides all nonsurgical solutions to sufferers of the "Silent Killer" that are available on the market. Dr. Eli will find a way to treat any patient even if it means trying every treatment, and is one of the only doctors who follows up with the patient after issuing a solution. Dr. Eli says, "We want 2013 to be the year we raise awareness of sleep disorder breathing to the community of women and men." Since his first Pro Player Health Alliance event and treating several former NFL legends, Dr. Eli has developed the reputation of being "The Guy" to go to for treating sleep apnea.
David Gergen says, "The goal is to get as many people treated for sleep apnea as possible. By creating Pro Player Health Alliance and working the top doctors all over North America, I believe we are succeeding; the numbers can prove it. It feels good to make a difference and that's what we're doing." Mr. Gergen has mentioned how professional Dr. Eli and his staff are and that is why he has extended a helping hand with Brad's second event. In fact, David Gergen will be with Dr. Bradley Eli and Dr. Elliott Alpher at the Super Bowl to screen for sleep apnea and speak at the symposium with the Living Heart Foundation.
Event Details
Date: September 25, 2013
Time: 6:30 PM
Location: Encinitas Community and Senior Center
To contact Dr. Eli in the southern California area, visit http://drbradeli.com and to learn more about Pro Player Health Alliance visit http://proplayersleep.com.
About David Gergen
David Gergen, CDT and President of Pro Player Health Alliance, has been a nationally respected dental lab technician for over 25 years. He received the award for "The Finest Orthodontic Technician in the Country" given by Columbus Dental in 1986. He also has been appointed chair of the dental wing of the American Sleep and Breathing Academy a national interdisciplinary academy dedicated to sleep training and education with over 60,000 members. He has worked for some of the pioneers in the orthodontic and sleep dentistry fields. One of his proudest achievements is receiving The National Leadership award for Arizona Small Businessman of the Year in 2004.
About Dr. Bradley Eli
Dr. Eli earned a post-doctoral Master's Degree at UCLA where he received advanced training in sleep disorders. He remains the only expert with this unique skill set in the San Diego region. Dr. Eli is on the hospital staff at Scripps Memorial Hospital La Jolla and UCSD. He is a member of numerous professional associations including the American Academy of Sleep Medicine and the American Academy of Dental Sleep Medicine. He holds multiple patents in the fields of both sleep and pain.
About Pro Player Health Alliance
The Pro Players Health Alliance (PPHA) is an organization dedicated to helping former NFL players, through providing testing and treatment options for those who suffer from sleep apnea. In addition, the PPHA is dedicated to integrating education and raising sleep apnea awareness, in a fun and memorable way. In addition to the campaign, the PPHA is dedicated to testing and getting people treated who suffer from sleep apnea. The PPHA was created by David Gergen, President of Gergen's Orthodontic Lab and Former NFL legends.