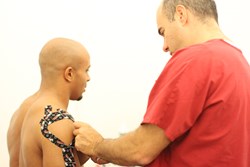 New York, NY (PRWEB) September 13, 2013
Dr Steven Shoshany has been working with a team of chiropractors physical therapists, and massage therapists to provide exemplary preventative and rehabilitative care to crossfit athletes as well as adventure racers who compete in grueling events and train using tough workouts that routinely test their physical abilities and push their metal limits. Along with treating every day people, Dr Shoshany has been helping amateur and competitive athletes get ready for competitions as well as recover from them. He has provided unparalleled access to treatments and techniques otherwise unavailable to anyone who isn't a elite level professional athlete.
When Dr Shoshany announced that he would be making his third appearance at the Civilian Military Combine "Metro Urban Assault", along with his team of specialists, RockTape decided to partner with Dr Shoshany and provide an array of RockTape products for the CMC competitors. Comprised of Dr Shoshany, Dr Cortes and LMT David Vargas, the team will provide taping, and bracing techniques using RockTape. Dr Shoshany is certified "full body" Active Release Techniques (ART) practitioner, and David Vargas is "lower extremity" ART certified. Along with ART, they will be able to administer adjustments, sports massage, as well as quick consultations and advice for the participants, wether they be military, professional or amateur.
This latest CMC (Civilian Military Combine) event will take place at Aviator Sports and Events Complex in Brooklyn, NY. The last CMC event to take place in NYC was held at the USS Intrepid Sea Air and Space Museum. The event is a grueling 4-mile course comprised of military style obstacles. Participants can sign up by themselves of as a part of a team with prizes for both team and individual times. The CMC competition will take place Saturday, September 14, 2013.
RockTape has been the leading force in the kinesiology taping, and athletic performance product fields. This assistive form of taping, using special, flexible tape is designed to help ease movement, assist joints, and improve lymphatic drainage. RockTape's products are cutting edge and very popular in Crossfit communities around the world. They will be providing their products to Dr Shoshany's team for the CMC "Metro Urban Assault". Dr Shoshany uses RockTape at his practice every day, and it has proven to be very useful for many his patients, especially those that are physically active.
Dr Shoshany has been a pioneer in bringing cutting edge techniques popular in the professional sports world to everyone. Professional athletes need to be able to train at very high intensity and recover faster than their competition in order to win. Focusing on a team centered approach, Dr Shoshany has strived to bring the "medical home" setting to each patient by finding and fixing the root cause of pain and injury.
At his NYC practice, he has worked alongside experienced and acclaimed professionals who are among the best in their respective disciplines weather they be a chiropractor, an M.D. massage therapist, or physical therapist. The specialists work as a team to design a program composed of the best course of treatment for the patient. The patient is then constantly monitored and evaluated to further customize and tailor the program for the best, and long term results. This approach often results in faster recovery, and doesn't rely heavily on prescription medication, as traditional pain treatment does. For more information visit: drshoshany.com