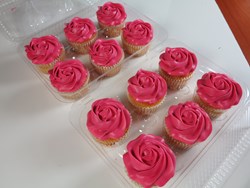 Visitors to the Unifiller booth will see how roses can be automatically produced directly onto cakes. This is an industry first from Unifiller using our latest robot, the Dec-Bot Robot
Vancouver, BC (PRWEB) September 11, 2013
Unifiller Systems, a bakery equipment manufacturer, specializing in the design and manufacturing of depositors, transfer pumps, cake decorating equipment, cookie machines, and pastry equipment is pleased to be exhibiting at this year's IBIE, October 6 to 9, 2013 held in Las Vegas, Nevada. IBIE, which occurs every three years, is attended by major players in the baking industry, worldwide.
According to Stewart MacPherson, Unifiller's VP of Sales and Marketing "This is one show we just don't miss. Its a great opportunity to speak to some of the most prominent bakery brands in the world. And with food safety, rising commodity prices and a focus on reducing waste always at the forefront, it's the perfect platform for Unifiller. Our expertise lies specifically in hygienic depositing solutions that reduce downtime and increase throughput."
Among the many reasons to visit Unifiller's booth 7207, here are this year's Top 3:
1. Prepare to be wowed by robotic technology capable of finishing cakes with various writings and drawings in record speed, yet versatile enough to finish cupcakes with intricate rose petals finish! According to MacPherson, "Visitors to the Unifiller booth will see how roses can be automatically produced directly onto cakes. This is an industry first from Unifiller using our latest robot, the Dec-Bot Robot."
2. What's small, fast and the perfect holiday helper? It's Unifiller's newest launch, the compact and versatile Elf 400 (Entry Level Filler). An ideal machine for optimizing production, the economically priced ELF 400 is just in time for the busy holiday baking season.
3. See live demos of Unifiller's cake finishing capabilities with Buddy Valastro of TLC's Cake Boss. Buddy owns several pieces of Unifiller equipment and loves how easy its made his job!
For more information about IBIE or Unifiller, visit http://www.unifiller.com or call 1.888.733.8444.