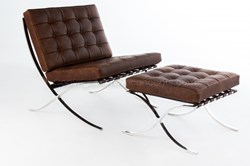 I bought Barcelona chair for my husband's birthday. It is really a handsome chair with good quality. It is so nice I wish I had bought two. The materials are high end and way above and beyond my expectations.
Vancouver, BC (PRWEB) September 11, 2013
Rove Concepts, high-end retailer of iconic mid-century modern chairs, tables, beds, and lights, is quickly becoming Vancouver's go-to source for contemporary home decor. Drawing the attention of the city's design elite, its broad and eclectic range of modern and vintage furniture styles has clients from all over the world ordering their in-demand styles.
Dedicated to providing the "architecture of affordable luxury," Rove Concepts, inspired by the modern works iconic furniture designers such as Arne Jacobsen, Eero Saarinen, Charles and Ray Eames, Borge Mogensen, and Florence Knoll, has rapidly grown their online and showroom inventory with everything from modern luxury lounge chairs, custom-designed teak sofas, coffee tables, dining furniture along with a host of other timeless pieces. Whether it's an LAX series-inspired wall-mounted table for small apartments, or coffee tables inspired by Noguchi or Saarinen, the craftsmanship and quality of their furniture has been garnering praise from both their customers and media, such as Boston.com and Vancity Buzz.
Using only quality materials such as genuine 100% full grain Aniline leather, premium Danish cashmere wool and classic Bouclé fabric, the stylish furnishing are made to last throughout the decades, only gaining more character and style with age. The company has also made waves by expanding their sales into the commercial world, furnishing some of Vancouver's biggest companies with luxury office furniture, such as mid-century Aluminum Group Management Chairs, Executive Chairs, Soft Pad Management Chairs and more.
Shipping internationally, they have developed a wide fan base across Canada and the U.S., and are increasing their presence day by day. Interested customers can find all their furniture on their website http://www.roveconcepts.com, and can see regular news, updates and sales through their active social media channels, including Facebook, Twitter, Instagram and Pinterest.
About Rove Concepts
Rove Concepts, Vancouver's premier choice for high-end, mid-century and modern designer reproductions, offers decor enthusiasts around the globe "affordable luxury" that lasts. Launched in 2010, the company has attracted the attention of decorators, artists, and home enthusiasts alike, but remains committed to their number one clients, hard-working furniture enthusiasts who appreciate modernism, quality and accessibility.
To sign up for their elite membership, or to receive the latest information on their unparalleled reproductions, fill out the interior designer trade registration form.
To see their luxury inventory, visit http://www.roveconcepts.com.