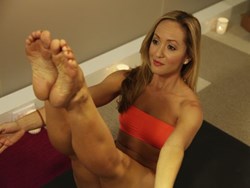 Inspire and energize your day with 21 daily fresh and invigorating yoga practices.
Vancouver, BC (PRWEB) September 11, 2013
MyYogaOnline.com is releasing its latest wellness program in a growing string of practice guides offered to subscribers each month. This September 10th, the Sunrise and Shine Challenge begins with specifically selected classes intended to help users wake up on the right side of the bed.
My Yoga Online has begun releasing a newly themed practice guide each month, consisting of videos targeted at current wellness topics and emailed to users daily. This September's guide shows users how to energize the body and mind each morning, and start each day feeling refreshed, revitalized and ready to go, whether they have 5 or 45 minutes.
"This September's wellness guide has been specially designed as a challenge," said Michelle Trantina, President and Co-Founder, My Yoga Online. "The Sunrise and Shine Challenge is intended to involve simultaneous participation from subscribers all over the world, with prizes for contestants and donations going to the charity Vinyasa Yoga for Youth." Competitors are invited to complete each day of the 21 days of morning yoga practice, and to motivate and communicate with each other as well as experts and teachers.
Popular instructors Clara Roberts Oss, Kino MacGregor, Giselle Mari, Ashley Turner, and Hemalayaa Behl offer subscribers Hatha, vinyasa, yin, and kundalini style classes every morning; and there is a morning mediation practice offering. Stay tuned for both of next month's practice guide offerings from My Yoga Online; a guide for building your core and a 3-day detox program. And this November offers a guide for boosting immunity – something that concerns everyone in winter; and the program "From Yoga to Zzz's", a guide on how to use yoga and meditation to improve sleep, de-stress and relax the mind before bed. My Yoga Online will also be giving the gift of yoga this December, unlocking its site and offering 12 days of free yoga in a guide created around gratitude and giving back.
My Yoga Online has a monthly membership fee of $9.95, making the service an extremely affordable source for wellness information as well as yoga. Monthly subscriptions are well below the average cost of a drop-in yoga class and are hassle free – no commute to the studio, no pre-paying to reserve a spot, no crowds and best of all, the perfect yoga class is available anytime and virtually anywhere. A membership to My Yoga Online makes a great and lasting gift of health for any occasion.
Join the conversation on Twitter with #MorningYogaChallenge and join the challenge at http://www.myyogaonline.com/guide/sunrise-and-shine. Users can invite friends and family to join in the challenge on the registration page, creating an even greater network of community and support.
Headquartered in Vancouver, Canada, MyYogaOnline.com went live in 2005 and today reaches hundreds of thousands of users world-wide. My Yoga Online promotes mind-body health, wellness and holistic living though more than 1,000 online yoga, Pilates, and meditation videos. The site also provides expert information on healthy living, workplace wellness, green living, health advice, a Q&A forum with experts, and more. MYO partners with women's charities to makes its content available at no cost.
To subscribe to the site or for more information, please visit http://www.MyYogaOnline.com or call 1-888-488-3877.